TMB Log book
---
Preface:
The problem is all inside your head, she said to me.
PAUL SIMON
March the first, 2016, I was about to leave on leisure trip to Budapest and was chatting with a friend on Facebook, she was telling me about all the amazing places she had hiked and had my eyes sparkling with all her adventures stories. They were uncompromisingly as alluring as out of my league, unlike her I've never been a sport person, my sport memories were the painful one of a puny kid with scoliosis, genu valgum, fallen arches: the odd one out that no one wants in its sport team. I had given up on any kind of sport a long time ago, and could not foresee me living any of those hiking expeditions until the boldness of this young woman flying solo toward an amazing 4 weeks' trek in Nepal would set me in motion. I could no longer stand my lethargy and pusillanimity, this is when I set my mind on the TMB.
---
TMB
Stands for Tour of Mont Blanc.
It is one if not the most famous mountain trail in Europe, taking your breath away as it circles around the Mont Blanc Massif, crossing France, Italy and Switzerland. It's 170km (110mi) long and a 10km (6.2 mi) cumulative positive and negative climb. The official trail starts in "les Houches" and ends in "Chamonix" (France), is usually done in 10 to 11 days, anti-clock wise and may be started in France, Italy or Switzerland. The trail offers many alternates (more challenging segments), so it's unlikely that you'll encounter someone doing the exact same TMB. If you start from France, it's pretty easy to get to Chamonix or les Houches either by daily trains or airplane: The Geneva Airport is about 1h away and the transfer to Chamonix costs 30€. It's really worth mentioning that on weekends there are night trains from/to Paris allowing you to start your journey straight out of the train in the morning or end straight to the train at 7pm on the last day. There are many tour organisers offering a TMB assisted experience with luggage transport, but I wanted a solo experience, as away as possible from hiking crowds and was craving for challenge. I planned my trip alone, midweek for 8 days using all the alternate alpine passes, that's was still 170 Km but +-18 km cumulative climb not 10. This decision was easy and only showed my foolhardiness if anything as I had no idea what hiking in the mountain was and my sole experiences were couple hours walk on flat land while in URBEX.
---
Getting Started
As most Frenchs the first thing I did was to buy the infamous "topo guide FFR Tour du Mont Blanc" which allegedly is a must for hikers, I was pretty proud of my little white and red guide at the time. But I now really feel it really isn't that great and I would recommend that you get the Cicerone's Tour of the Mont Blanc instead, which is the one most non-French speakers use anyhow. I was better inspired for the online tools: Graphhopper used with the German WanderReitKarte maps is fantastic, it will give you walking distances, estimated time, positive negative elevation and more, for your custom itineraries. It will also let export your planned journey as a GPS track than can be used with most GPX compatible devices and apps. (I recommend Alpinequest)
According to suggested hike times if I wanted to make it in eight days I would have to walk eight to ten hours each day, my plan was to start up in the morning at 8am and arrive between 6 and 8 pm (ie: before sunset). I did not take into account breaks and was telling myself that I could always finish the day at night with a head lamp if I had too many breaks. Yeah... Sure... Now that I've learned from my mistakes, let me give you a few "obvious" advices that you really should consider:
You won't walk all the time, you will make stops (should it be for taking photos, eating, looking at the sky as you cool down in the grass, taking care of an injury etc...) and you should take them into account for at least 25% of your day, actually 25% will barely give you the impression you had any breaks.
Unlike rated or on-line calculated walking time, your walking speed will be fluctuating. It will be function of the temperature, the weather conditions (rain, wind, ice storm, sun), your awareness of the dangers, your psychological state or just plain fatigue. If it's all the same for your on-line trip planner/travel guide you will definitively see the difference between your first pass in the morning and your third at 4pm, and your 5th at 6pm.
You need to take with a grain of salt the time of sunset and sunrise when you're in the mountains: while the sun may set at 8:30pm you may be in the shade and the cold as early as 5pm due to the other surrounding mountains! (Laundry is best done while there is sun still available, that is if you want dry clothes for the next morning)
If you're planning to sleep in refuges you might not be able to call and warn that you will be arriving after dinner(7pm, 6pm in some) and end up bedless: refuge may consider that you forfeit if you do not make it for dinner. (most dorms are sleeping after 9pm)
Once you've set your mind on the path you are going to follow the next thing that comes to mind is where to sleep. I went with refuges as weight wise I had already 2.5kg of photo equipment and additional tent, sleeping matrass/bag, food and cooking stuff, would have been way to heavy ( especially as a solo hiker where you can't share redundant stuff). Moreover, costwise it did not seem all that much cheaper and to be honest I thought my plate would already be full after those long hikes.
Looking for refuges on the TMB is easy as 123: autour du Mont Blanc let you choose and book from 55 different refuges (most require a 10 € deposit some don't). The cost of the refuges range from 50€ to 60€ dinner and breakfast incl.! They are a few refuges that aren't listed that you may find interesting especially if you do not follow the main TMB.
You may also choose to bring your tent and camp, there are several areas dedicated to campers: the average charge is 15-20€ per head/night, you may also try to settle camp in undedicated "free" area: in France and Switzerland below 2500m the unwritten rule is "not in line sight of any refuges/habitation", but in Italy you are very likely to get into trouble if you are below 2500m.
Tip: Refuges are almost always cash payment only, but you don't need to worry about change as Swiss are happy to take your Euros. Most TMB refuges provide electricity but you will have to share the very few wall plugs so it might be wise to take a multi-plug or a charger with multiple outputs. Don't expect to always get proper cell coverage, but the majority of them offer low bandwidth Wi-Fi. If you plan to leave before the breakfast's main service you may request an early breakfast, in that case they leave a Thermos with coffee and some bread just outside the dining room. Most refuges require that you use sandals and leave your hiking shoes outside (I therefore took a pair with me) but you should know that they will lend you for free a pair, so you really do not have to pack and carry your own! Sleeping bag liners are also a mandatory requirement, if some refuges will sale you some disposable one,they look like hospital's operating table liners and aren't comfortable, so unlike sandals I was glad to have my personal really comfortable cool looking ultra light silk liner and so should you.
---
---
Backpack & Gears
My total dry load was slightly above 10kg but my actual backpack weight (excl. poles and the clothes I wore) was about 9kg
Backpack (1.3kg)
The corollary of your backpack set-up is the way you wish to travel: will you be managing food, rest places (tent or refuges), how much comfort do you need? Will you use the service of organised TMB operator who carry your luggages from refuges to refuges ?
Most people will tell you comfort is paramount especially if you are going to carry 10kg or more all day long. While this is true but still an internal design that fits the way you segment your gear is almost equally important as it will make your relatively small pack carry as much as larger and heavier ill-conceived pack. As far as comfort, mesh framed backpacks provide a really appreciable degree of comfort despite their typical 25% extra bag weight over unframed packs. As for the internal I have to thank SnareMan for his excellent equipment reviews as he helped me choose the Osprey Stratos 34 (a medium size 1.25kg 32L bag well suited for slim backpacker).You may take a look at the Exos 38 also from Osprey if you require less organisation in your bag, are plaining to be autonomous or are not on the puny side.
Water management (0.45kg empty 3kg full)
I used a water bladder, and was please to find out that once inside your vented backpack It had an unexpected slightly isothermal property. A great advantage over plastic bottles shoved into side mesh pockets. You should be aware that in most back pack bladders are a pain to refill as you have to take them out your filled bag of then in again, it's therefore a good idea to leave some manoeuvring room in your back pack. One disadvantage of bladder over bottle is that you'll hardly know exactly how much water you have left, this led me to be pay more attention at my water intake, and drink regularly in rather small quantity rather than a lot when really thirsty.
To the question what's "is rather small quantity" I found a neat trick: The water in your bladder is slightly cooler or hotter that ambient air temperature, but this is only true to the water in the bladder not the one within the hose, so the idea is to drink up to the point when you feel the water changing temperature, plus up a sip or two if really was thirty and that's that. Doing so allow you to keep your intake regular without much thinking.
Clothing (2.9kg)
Here is my list: 2 merinos underpants 3 pairs of dual layer anti blister socks, 1 merino hose, 1 merino zipped top (both primarily used when sleeping), 1 merino hoodie, 1 convertible durable cargo pant, 1 Gore-Tex shell, 1 synthetic running shirt 1 merino/hybrid running shirt, one bathing short that double as commando walking short, a pair of Windstopper glove, a pair under glove, a merino beany merino neck band (I used none of that but as the weather was mostly great with no wind) and a buff (that I barely used).
From my road trip to Iceland I learned about three things
Effectiveness of layering (using different layer of cloth with complementary properties in order to adapt to changing weather with one set
Merinos wool mitigate odours (It will make you smell like a sheep thought) and will keep you warm even when wet
If you are told to use a Gore-Tex shell don't be a smart ass and take some-other-shell or the Artic wind will make you freeze to death.
Photo gear(2.4kg)
Sony A6000 mirror less camera, one spare battery, a 10-18mm lens and a 16-70mm lens, PeakDesign Capture pro clip clone, a full size RRStuff travel tripod & ballhead and a CCD cleaner (that I should have used sooner). If you only can take one lens on this trip I'll recommend you'll chose the wide one, even if some time you would wish you had a tele, most of your shots will likely be taken <35 mm. The capture pro clip is likely the most useful piece of gear I took with me, it's a quick release plate that clips to your backpack strap. Allowing you to have your camera ready in a snap. (if it's in the bag you'll never take it out, if it's on a strap It will dangle all the time around, on your backpack strap its perfect. Having said that I would not use it with anything bigger than a small mirror less camera and you would be well inspired to add a backup bungee strap in case the system fails). As for the tripod although it was useful in a fair amount of shots, that's 1.4kg so I think that on my next trip I'll try to get creative with a small 0.2Kg table tripod and see how it goes, not a settled question. (no ND or pola if you're not filming they are ways to do without)
Diverse(2.3kg)
Compass (did not use it, the track is rather easy to follow, but you'll be glad you have one, should you encounter fog), Mobile phone (I intended to use its GPS and its music player but in fact I never did in neither mode during the hikes, my only use for my smart phone to share a few bits on the internet in the evenings), a GPS runner's watch, that I used to record my tracks, a spare emergency phone battery, (rather useless: If you're not using your phone during the day you should have plenty battery for emergency), sun Glasses, small Swiss knife, an all in one plastic forkspoonknife (that I never used), an aluminium cup (that was somewhat useful), a dual output usb charger, a pair of Nordic Walk Leki poles, a pen, and the not so useful French TMB guide that I used as notepad.
Note: Nordic walking is fairly different from hiking, in Nordic walking you mostly keep your pole behind you in a pushing skiing motion, then with the semi-passive motion of your arm going forward you drag the pole with the wrist-strap, while pushing behind with the other pole. In your motion you keep your forearm way bellow your heart relatively strait with your fore arms, the technique is meant for forward propulsion and permanent load balancing between upper and lower body it is optimal on flat or low to medium incline. Hiking technique is aimed at stabilisation support and upper body assistance in moderate to step like incline, you really hold your pole mostly in a forward position arm bent in an almost right angle position. On flat or medium incline hiking offer very little help in the motion and most hiker don't use their pole, while Nordic walkers have a real assist, and may keep their heart rate lower or allowing them to run almost naturally with their backpack (if they want). Going downhill on a rugged bumpy trail is an issue with Nordic pole you will likely need to your wrist-strap off and try to hold your pole as you can as they don't usually offer any as support for your hand palm. It seems they now make trail runner specific pole taking the best of both worlds
First aid & toilet kit(0.65kg)
A roll of Elastoplast, Several Compeed put all together in one box, micro hand sanitiser flask, UV50 25ml sunscreen, 60 ml Dakin (Sodium hypochlorite) it's an powerful antiseptic that won't make you scream or damage all the "good" cell in you wounds, two 10x10 Paraffin gaze, a 5ml liquid tiger balm flask, A 60ml Dr Bronners Organic liquid soap, a Packtowl micro fibre towel, a roll of hygienic paper (not needed as all refuge have some), paracetamol, ibuprophen, and Lopéramide, some latex glove, a lighter and a 75ml tube of NOK(the ultimate must-have anti chaffing solution).
Food(1.2kg)
In my rather foolish plan I imagined that I could fuel my hikes mostly on love and fresh air and … a couple of snacks(a dozen Blueberry Cliff bars). That was suppose fill me for my seven-day hike at lunch time. At the last minute out of "gourmandise" I added a 300g gingerbread. Needless to say that things did not quite turned out the way I planned.
---
---
Physical training:
When I planned this trip, nearly 5 months in advance I was counting on my will and my ability to "endure" to make it. Physical training wasn't the kind of thing I did. Nonetheless I could not stop wondering how it would feel. As Paris is rather flat, I imagined that if I brisk walked my way to work it would somehow compare to walking on a slope up with a full backpack, so I did; using "runkeeper" to see how I faired… Now, I know it really doesn't give you any indication of what your hiking performances will be. But, out of this the most curious thing happened: those fast walks made me feel good. So good that at some point I thought I could try the free 5k run training program my phone was suggesting. This no longer had anything to do with the TMB but all to do with the smiling good feeling running gave me, I can hardly describe it otherwise. A few weeks later I registered for my first race: a 10K in Paris and was pleasantly surprised by how I faired (below 1h although it's pretty sub average for my sex and age). To cut a long story short, against all odds: I couldn't and hated running before, I kept on running for about 160km each month during 5 months. My relatives thought I had gone insane. Five weeks before the TMB I started going to the gym for one hour 3 times a week, doing bodypump and Cross-training.
I did not gain any strength, at least none to account for when I look into the mirror. According to my cardiologist's exam I was now 10% fitter than the average couch potato: nothing to brag about really. The main gain was physiological: I was now feeling like having a real fighting chance. Two weeks before The TMB I was in Cinque Terre and did a couple of poleless small 2h hikes with a light 5kg backpack. +513m climb felt hard, so much for the physical effect of training .
---
---
DAY-0 (10 Aug. 2016)
Paris - Les HouchesLength: 608km, Elevation: +8500m/-7500m Rated: 6h20, travelled in 8h
I left from Paris at 1 pm and arrived in the small town of "les Houches" around 8:40 pm, taking 3 connecting trains: fast national train, a slow regional train and a sluggish mountain train. They were late, but thankfully they waited for eachother to ensure passengers could make their connections. The Houches station is just outside the town, there are little directions available, I followed the road, passed the bridge and turned right, the town seemed deserted although its hotels were allegedly full (mine was rather quaint and expensive for its average comfort). I left my backpack in my room and headed straight away to the nearest pub the "Kitsch Inn", I was starving and tired. Swiftness was not their cook's primary quality, but they were nice and so was the food. I would have appreciated greater quantity and would have ordered another main course if another 40 minutes wait hadn't dissuaded me. Back at the hotel I plugged my phone and realised my charger was dead (I must have fried it with the on-board train's wall plug). I was relying on so many electric stuff (GPS, music player, phone, camera, watch), this was bad, and to cap it all I managed to forget my supercharged Compeed (anti blister) box. Around 2am I woke up with an idea, I checked the TV for an USB plug! I was saved, but had to leave the TV on for the rest of the night and barely slept.
---
---
DAY-1 (11 August 2016)
Bellevue – le Nant Borrant via Trico's pass Length: 17.5km, Elevation: +1500m/-1800m Rated: 8h, made in 4h21 walk + 1h29 breaks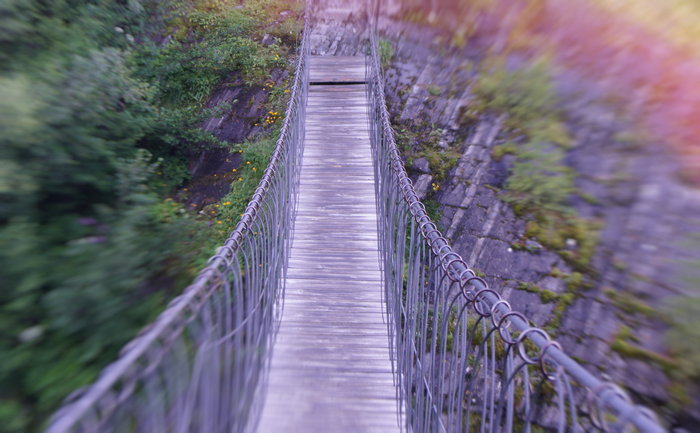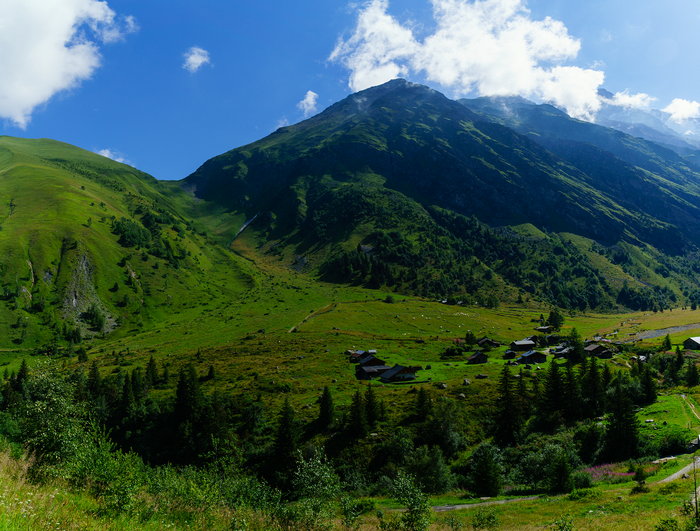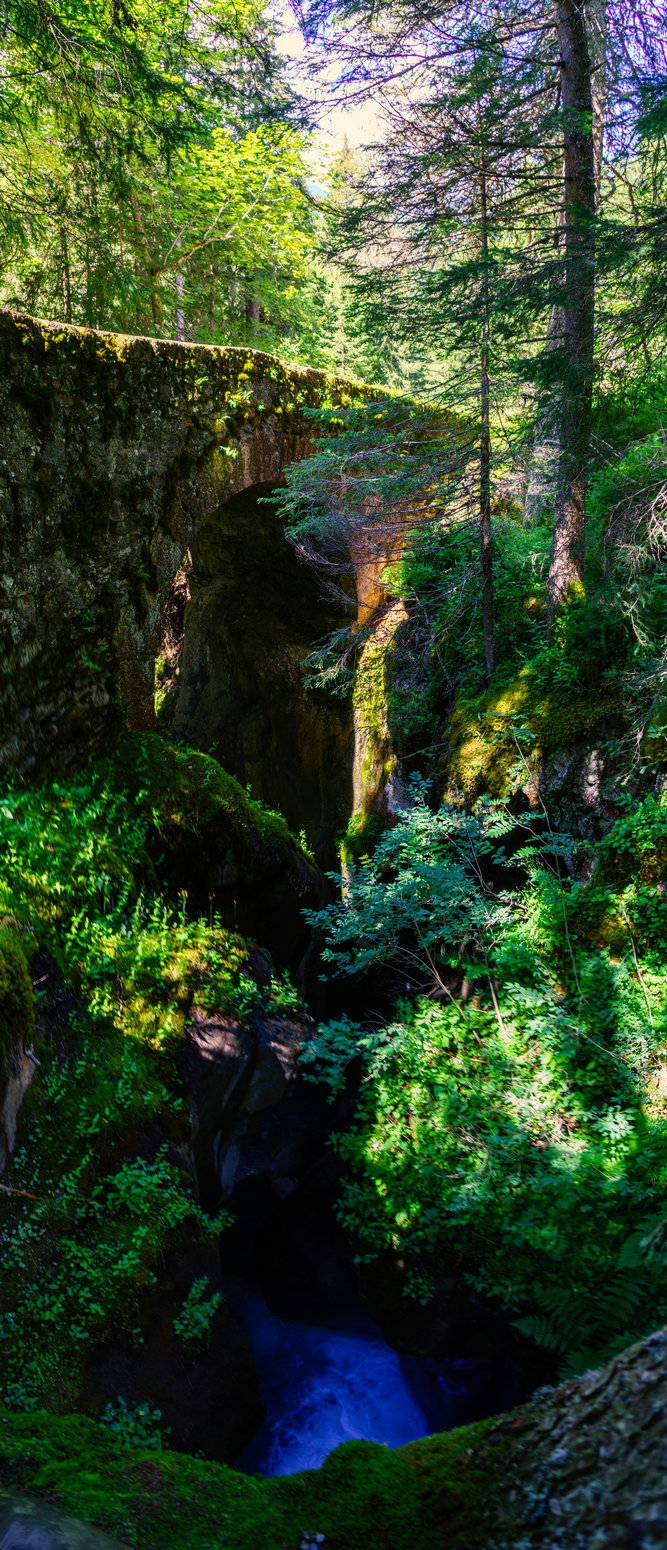 I was a bit stressed by my misfortunes and my lack of rest. I had planned this first day as an easy one: just two alternate small passes and two additional hours hike over the regular TMB. But I did not plan a "seek and buy" stop in the town of "les Contamines" . In order to stay on course I readjusted my plan and did what all lazy hikers on the TMB do: I took the 5 minutes cable-car from les Houches to les Houches's heights (called Bellevue) in order to save the 40 minutes I would later need in town.
My hike started at 8:15 in Bellevue. The sky was grey the air fresh (-5°c) and humid, I was more or less alone on the trail except for 3 Dutch hikers. In order to save battery, I had my phone set to air-plane mode and neither used its GPS nor music player. I reached the bridge above the Bionnassay's torrent after about half an hour. I had a hard time enjoying the hike so far as the light was pale ans I was lost in my thoughts but almost as if crossing that bridge made me voyage to an other world, the muted sky shifted to blue as the absent sun showed itself. I finally opened my eyes and I saw the world in colours. By the time I easily reached Trico's pass I had completely forgotten my insignificant issues and was at peace. Relaxed and feeling happy I made a small break to enjoy the view.
Going down that pass required a bit more effort on my knees, but as the rocks were pretty well sealed to the ground and the trail not threatening I skipped about my way down like a little goat and headed straight up to le Truc's pass as I did not felt the need to take a break at the "Chalet de Miage". Up at the Truc my stomach was feeling empty, according to my revised travel plan I expected to be there at noon and was one hour early a little to soon for lunch. After a Coke and a Cliff bar I headed down to "les Contamines", I encountered a lot of families on their way up for a day hike at the Truc and Trico.
Coming from les Contamines, The Truc pass is really accessible to young kids and elderly, there are many small trails in between the two passes, going up to Trico might be more challenging
I arrived in town at noon and miraculously was able to found an overpriced under-performing charger in the local "Carrefour" supermarket, beggars can't be choosers, can they?
As pleasing at it may be, spending time in the sunny town of Les Contamines was not so much on my list so I grabbed a quick bite from the supermarket, made a stop to the pharmacy and was on my way with a basket of apricot in my hands. The TMB follows an old peaceful Roman road alongside a torrent, I eager to run but couldn't as I was holding that basket (don't buy fruits in basket, if you can't fit the basket in your bag). After a few unsuccessful tries (people seem to be worried about a stranger giving away fruits to children on a forest trail), a fearless Catalan family accepted my gift and I could enjoy some Nordic-walk style running. I don't recall how it finally came to my attention, but I did not notice that my "jogging" had accidentally open my upside-down placed liquid-soap bottle, before 50% of its highly concentrated content had spilled all over my individual First Aid Kit and a fair amount of my clothing. It had been a nice easy day, sunny and I was in a great mood, I would not let this blow take me down. I almost welcomed doing an impromptu laundry in ice cold river water, but from this point on I would nonetheless place my liquid soap in my hip belt pocket with the sunscreen, and the hand sanitiser, lesson learned. I arrived at the refuge at 2pm and it hardly felt like I had done any hiking that day: the rated times seems to be completely overestimated and the difficulty seemed a lot easier than my Italian Cinque Terre mini-hikes. My electrical misfortune had been a blessing in disguise: listening to music or being glued to a GPS were terrible ideas, and being forced not to propitiously conditioned me for the rest of the TMB
The refuge: The Nant Borrant is a medium sized chalet, with on the first floor something like 4 dorms of 3 to 4 bunk beds, there are showers on the ground floor and a couple of sanitary on the first floor, running water in each dorm and about 5 wall plugs available across the facility. As in all refuges in the nearby area, dormitories aren't heated and cold at night. The dinner is served at 7pm (soup with "tome" cheese,potatoes gratin and pork sausage)in large quantity and the price of alcohol drinks is quite moderate compared to the other refuges on the TMB. If you stay in this refuge I would recommend that you take their lunch box as it was without contest the best of the whole tour (tomato boiled egg, large piece of tome de Montagne, apple, one chocolate energy bar, and one large ham sandwich).
Social time: I had meant to do this trip as a solo experience, but this was my first occasion to exchange with other hikers and I welcomed this social time. My first "dorm encounter" was a couple of French hikers in their mid to late 40's doing the TMB with an operator bringing their main luggage from one refuge to the other. Their daily bag was as big if not bigger than my full tour pack, it included things like huge battery cell solar rechargeable (capable of recharging all my gear for a week), a proper dedicated GPS, and countless things of debatable usefulness. They had a different set of clothes for each day and were awe one would have to do laundry. They kind of made me feel uncomfortable as there were addressing me as an "endured autonomous hiker". My second dorm encounter was a charming 25 years old Danish young lady named Lene, rather shy at first. She understood some French but enjoyed being able to chat in English with someone. She had planned to do the TMB solo but had been walking all day with a French girl doing the TMB in autonomy and wondered about doing the whole tour in pair. And finally, there was this astonishing British citizen in his 40's living in Switzerland: Nicolas. He was taking some alone time, away from his family and his job in finance to do the TMB solo. It had been a long time since I heard proper(public school) English or enjoyed the company of a gentleman as only British can be. I found that really refreshing and it reminded me of my time in England.
I spent the dinner with Nicolas, Lene and a bottle of cider, they seemed to be impressed by the journey I had planned for the next day. We all have aimed for an 8 days' trip, did I miscalculate mine? After studying the map, Nicolas and I tried to convince Lene to do the alternate mountain path leading to the pass of "les Fours" as it was really more promising than going down to the next town stop of the regular TMB, in vain.. That would be her loss. Discussing itineraries, we discovered that coincidentally Nicolas and I had booked our ante-penultimate night in the same refuge, so we would be meeting again.
---
---
DAY-2 (12 August 2016)
Nant Borrant - refuge Elisabetta (Lex Blanche) via le plan des Dames, Bonhomme's, Fours's and Seigne's passLength: 26.5km, Elevation: +3000m/-2300m Rated: 10h20, made in 6h25 + 1h34 breaks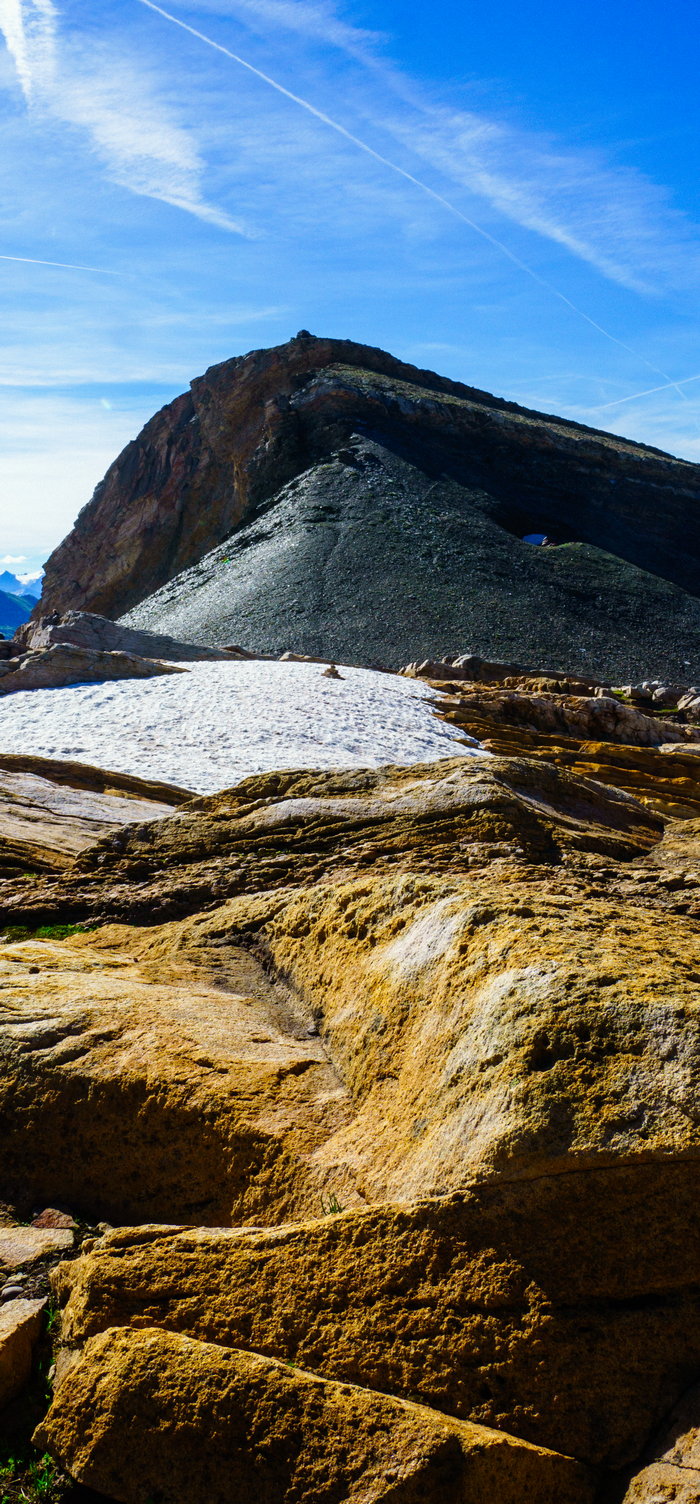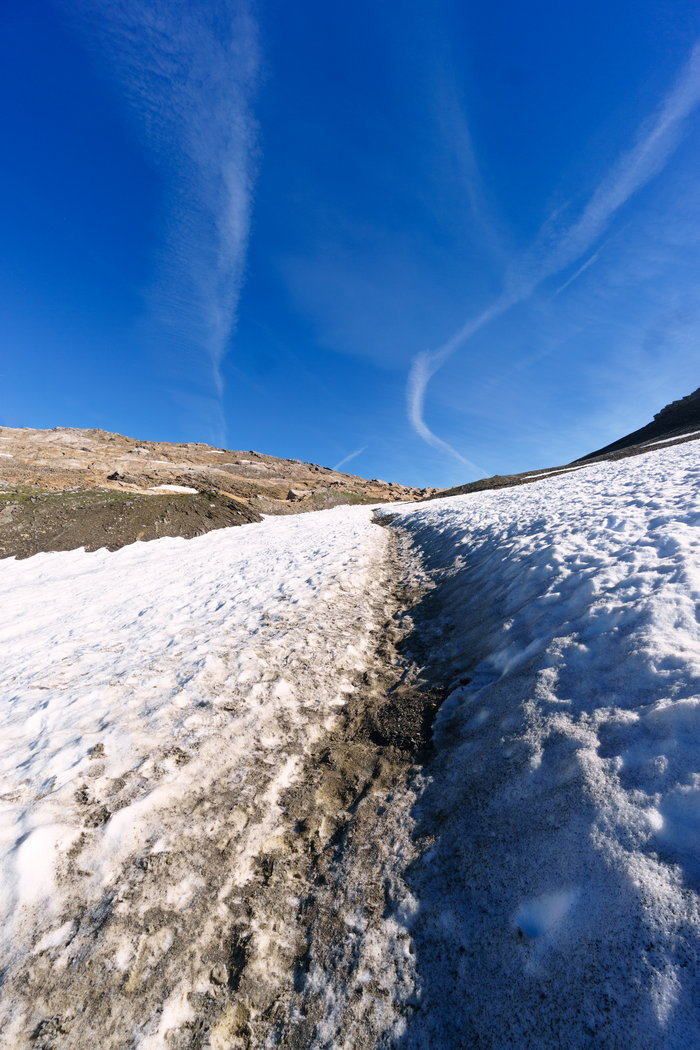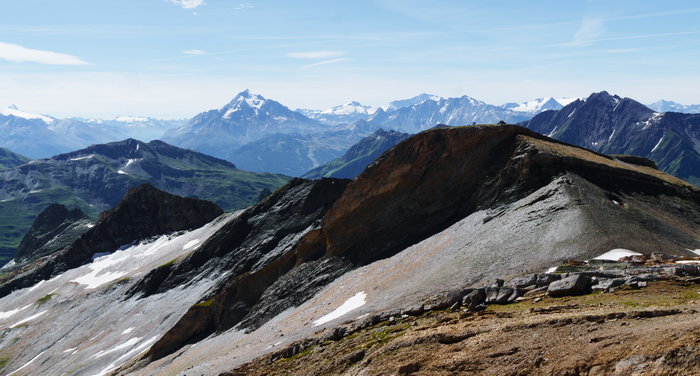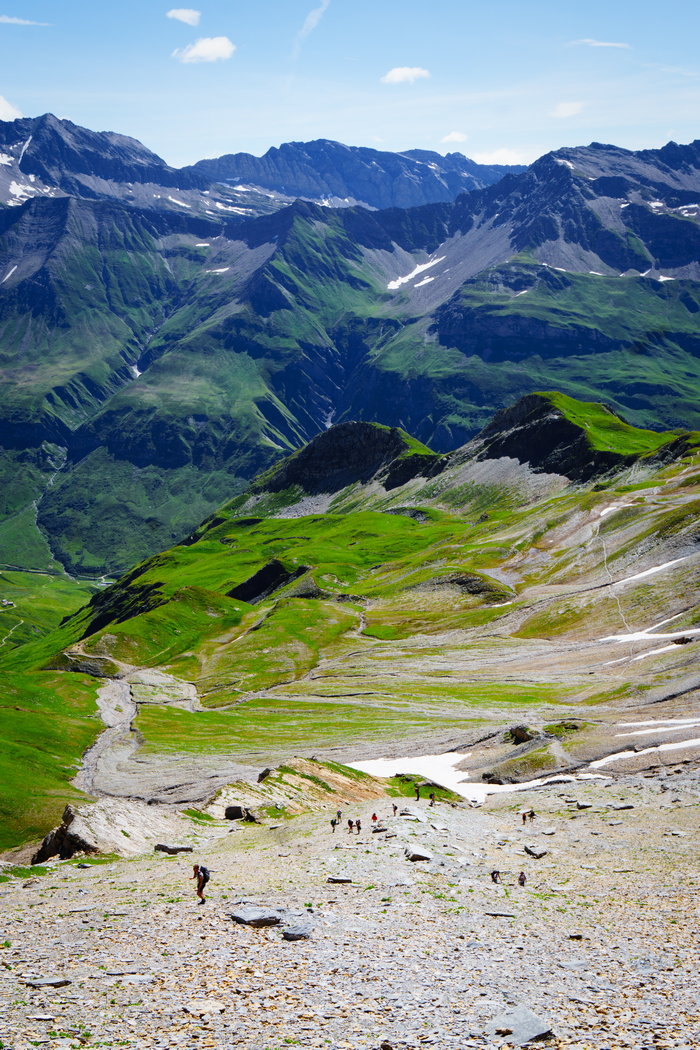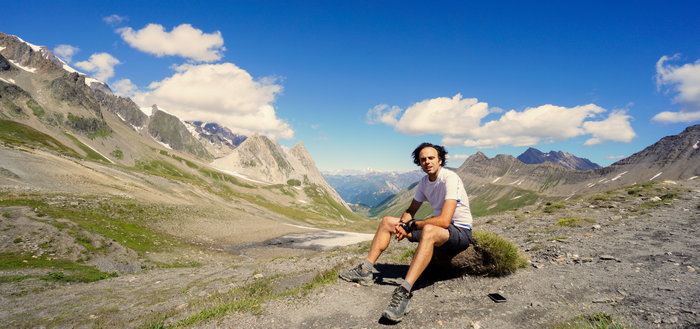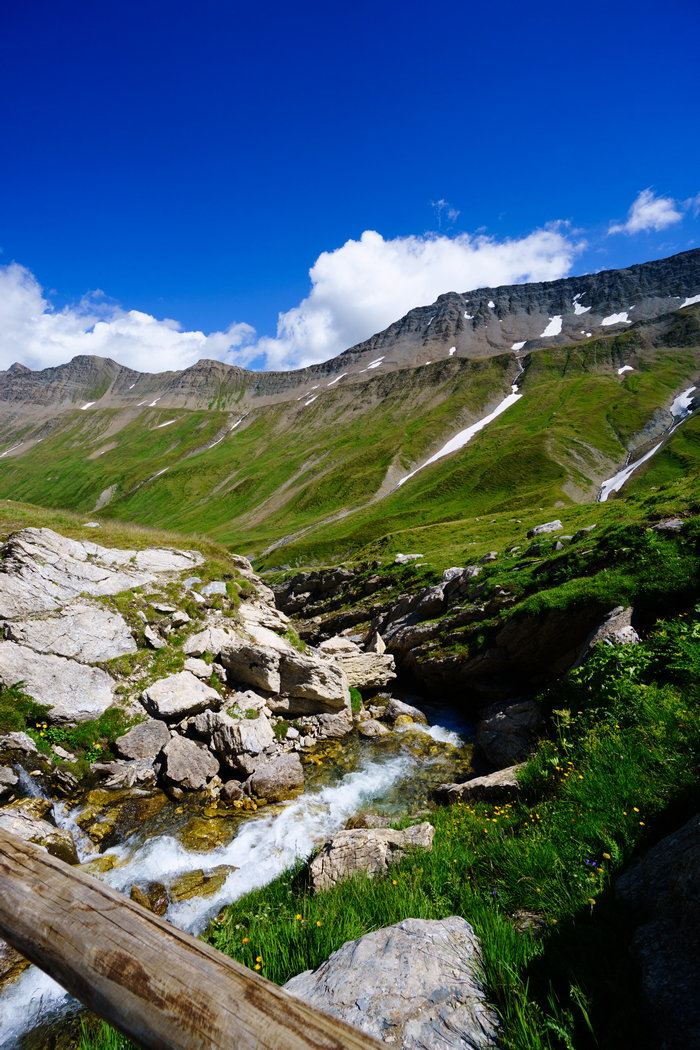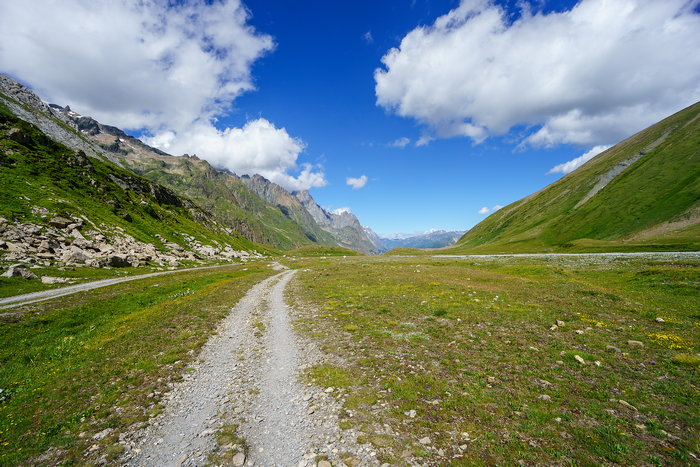 The night had been cold and I was up at 5am excited by the journey ahead, I had been told by a more seasoned hiker that the step I planned was "honourable" and that just was what I looked for after an unexpectedly easy first day. The breakfast usually served at 7am was that day available from 6am thanks to a large group of 12 Italian hikers willing to leave early. That suited me, but I waited for Nicolas and Lene to wake up, said goodbye and left at 7:10. From the refuge the trail gently goes up on an almost flat trail for a couple km up to La Balme's Refuge, I had two layers on but quickly dropped down to a single t shirt to enjoy the cooling effect of the morning (-1°C) while I paced this monotonous segment. After the refuge the trail starts to climb to the plan des Dames and there are a couple of places where it's very slightly technical. From the plan des Dames the landscape gets more and more appealing as you get close to the Bonhomme's pass while remaining fairly green.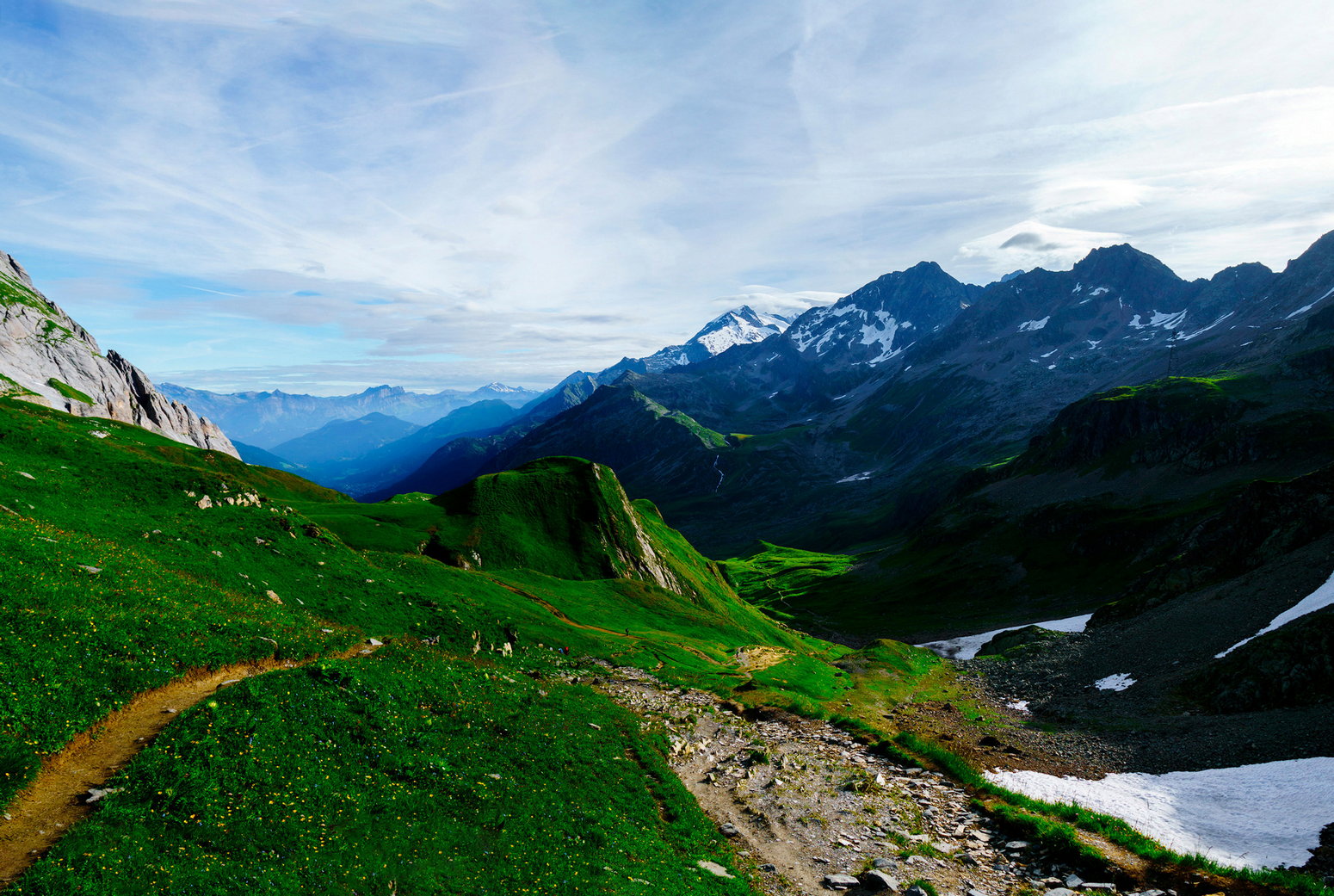 I was pleased to arrive at the Croix de Bonhomme's pass just before 9am as it meant I would later have plenty of time to go at the "tête des Fours".
The tête des Fours is the high point of the area, it offers an unique 360° panoramic view as well as direct view of of the Mont Blanc, this is the place you should not miss if you take the path going to the Four's Pass.
From the pass of the Choix de Bonhomme you can either continue south to the refuge and then go down to the town of Trient or climb up to the Fours's pass where the landscape quickly becomes mineral.

They were a succession of large neves on the trail, and the Four's pass it self was covered by a neve. They had been pre grooved by countless hikers and presented no real difficulty. Going to the "tête des Fours" from the pass is a bit more challenging as it requires that you make your own path across large rocks and rawer neves. You should watch for the gaps but it should not be too much of a problem if the weather is clear. I was on the summit around 10:30, I could not have had a better weather not only sunny but almost windless.I was starving and this was the perfect place for a lunch break. (During the TMB I would noticed my biological clock shifted and 10:30 am sounded like lunch time while 16:30 would feel like dinner time)

Going down from the "fours" 's pass was challenging for the inexperienced hiker that I was, not that it felt dangerous but rather that I did not have enough technique to skip around this time. The trail made of crumbly mineral plates feels a lot steeper and jaggier than it looks on the photos, It definitively calls for a fair amount of legs & knees work. Half the way down I was caught up by Nicolas who's hiking technique showed its proficiency. This drove me out of my sauntering and I tried keep up with Nicolas as the trail got greener and easier.
This most beautiful trail ends when it meets a large laced track (road wide) going down to la Ville des Glaciers, I had found a shortcut during my on-line graphhopping recon work: an unmarked path cutting the lace all the way down. Nicolas was sceptical at first but the alternative broad main road had virtually no charm. Judging from the donkey shits we figured my shortcut was the paths used by the mules carrying the luggages of "assisted" hikers. It did not take us long to reach La Ville des Glaciers, which unlike what the name suggest is not a town but a farm and a bus station where the regular TMB coming from the town of "les Chapieux" and the alternate alpine TMB track meet.
I wasn't regretting my itinerary one single bit, that day had had nothing to do with the one before. This time it really was going to be a long day and I loved it. After a water refill, I followed Nicolas on the path going softly to his refuge "les Mollets", the real incline was waiting for me after the refuge, when the trail goes up to the Seigne's pass (the French - Italian border). I left les Mollets at 1:30 pm, I was confident, It seemed I had a whole day ahead of me and I did not feel tired. One hour twenty minutes later I had power hiked my way up to the Seigne's pass.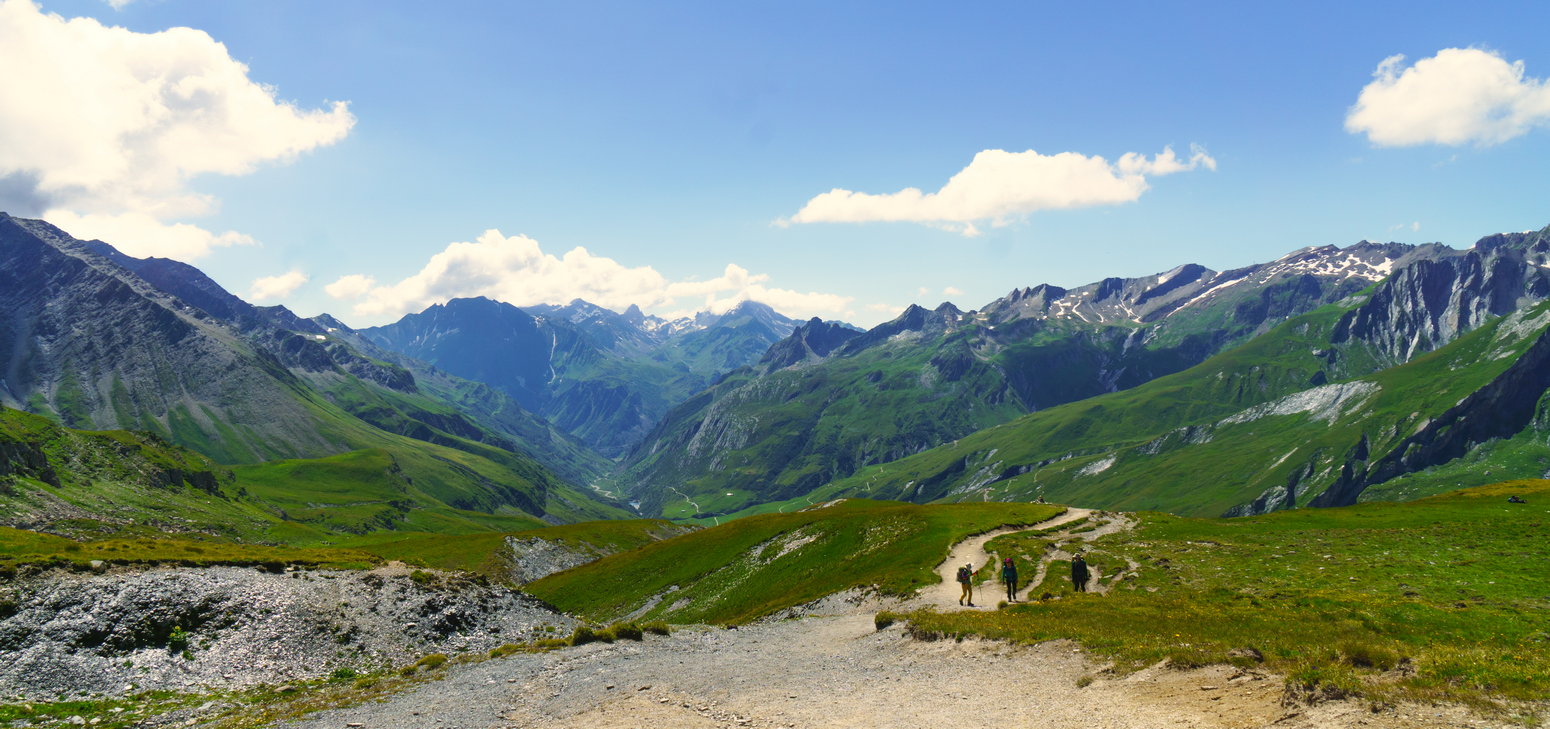 All of a sudden as I reached the pass, I was flood with a weird feeling mixing the achievement's happiness, and brutal exhaustion that was no longer masked by my adrenaline, I abruptly felt like crying. This whole day that felt ahead of me a couple hours ago had all of a sudden a different taste and started to feel long. I finished my day hike around 4:20 pm and while I would probably have had the strength to make it to the next refuge about (50 minutes away) I was glad it was over as those last 3,3 km definitively felt like an eternity.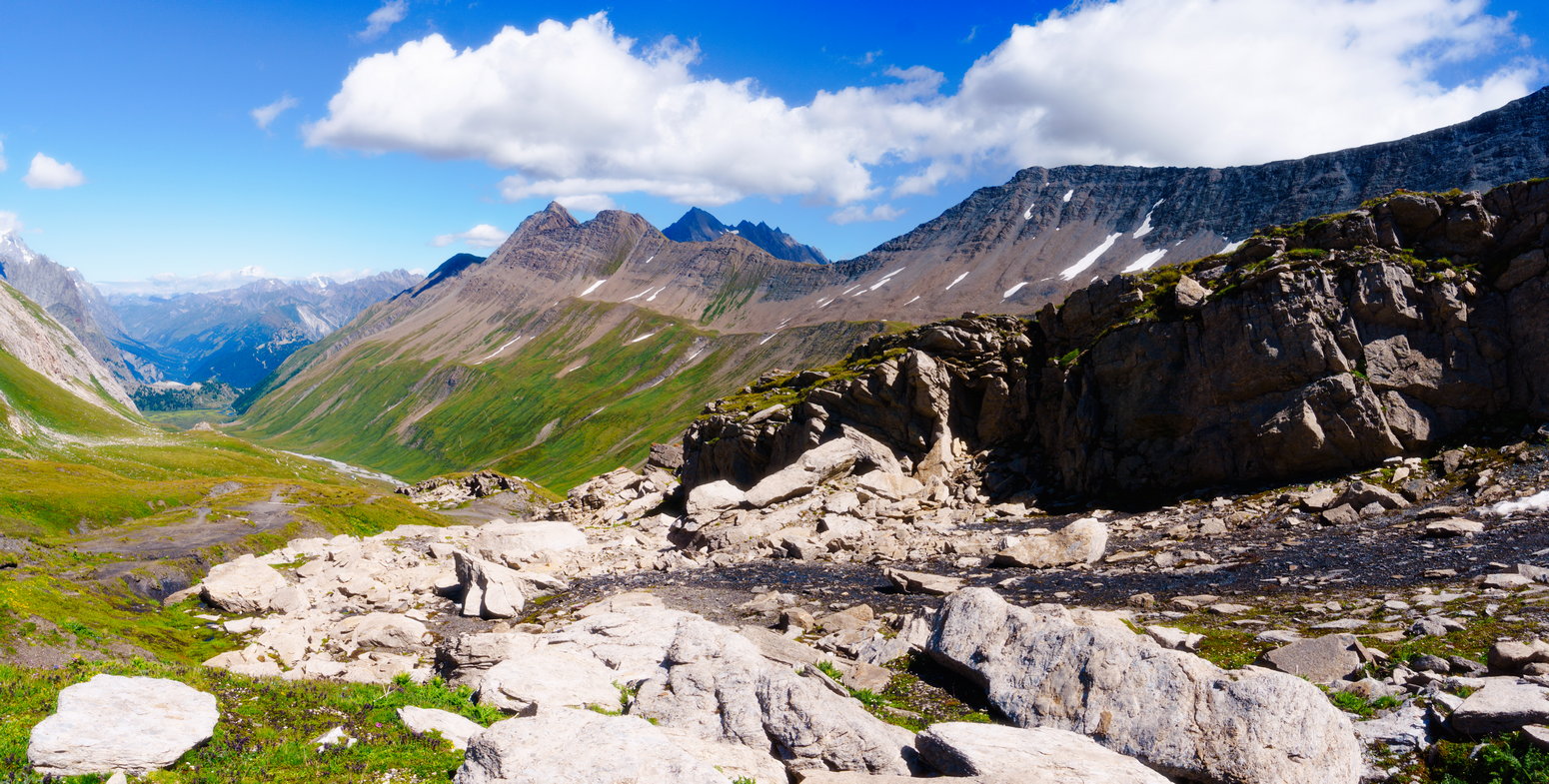 The refuge: It's a big 3 floors chalet that felt really crowded, on the first floor are several 6 to 2 ppl dorms and a very large dorm on the second floor. The two gender specific bathrooms contained 3 WC + 1 shower each and seemed underdimensioned for the amount of guests. After this long day, I was in for a surprise: they had booked another gentleman with my name and assumed we were one and the same. Fully booked it meant no bed for me, thankfully it was nothing that a mattress on the floor in one of the tiny 6 bed dorms would not solve (except maybe for other people from the dorm who couldn't access their bed). Oh well, sometimes you have to make the best of things! But the story did not end there: maybe it was because I did not complain, maybe it was because I spoke some Italian, or maybe it was just because I'm naturally charming, but after the dinner the manager went to me and told me that I could, for a little extra, use the chalet's presidential suite: 4 bed dorm all for me! Hell yes! (I would learn later that most refuges keep a secret dorm not available to regular guests, dedicated to mountains guides).This refuge offers about 10 wall plugs, don't expect cell reception, but there is an anaemic Wi-Fi. Dinner is a full Italian meal with "primi piatti" risotto and "secondi & contorni" veal and vegetables, and dessert.
Social time: I was barely sociable that day and only exchanged a few words with a couple of French siblings: Alexandre-29 experienced hiker who had his fair share of travels, and his younger brother Aurélien-19 on his first hiking experience. While I had enjoyed human chatter the first night, the enjoyment of silence and isolation had grown on me, I stayed rather soft-spoken and headed to my suite.
---
---
DAY-3 (13 August 2016)
Refugio Elisabetta (Lex Blanche) - Refugio Bertonne (Mont de la Saxe) via Lago del Miage, Arp vielle inferior, plan Checrouit, Courmayeur Length: 23.4km, Elevation: +2300m/-2080m Rated: 8h30, made in 5h14 walk + 2h10 breaks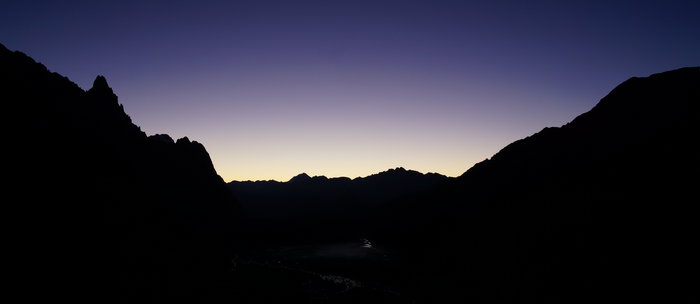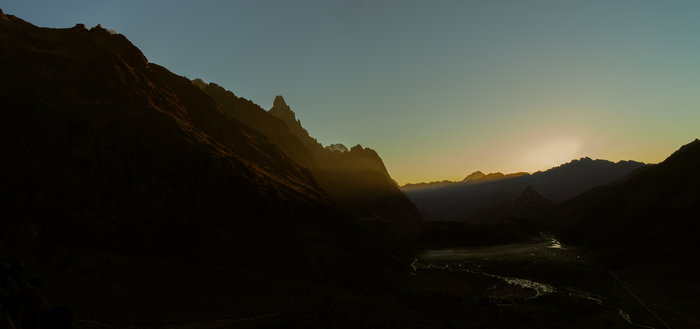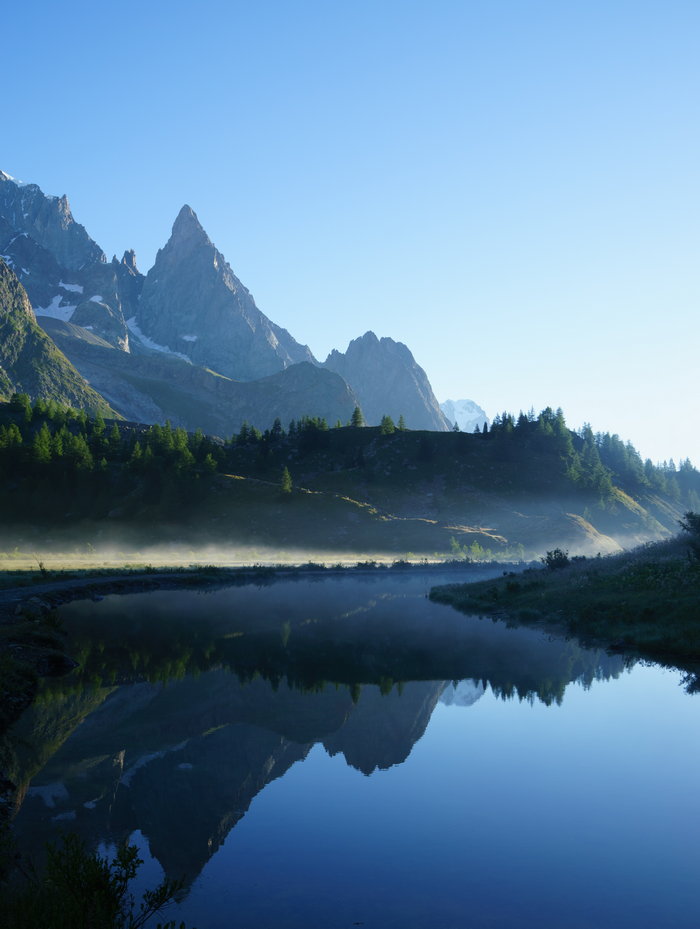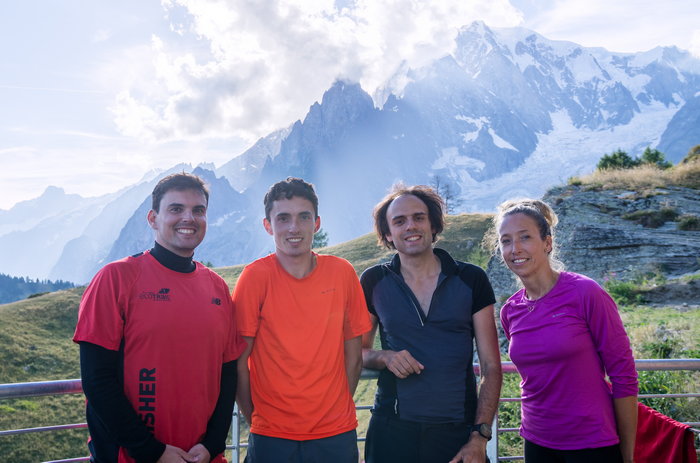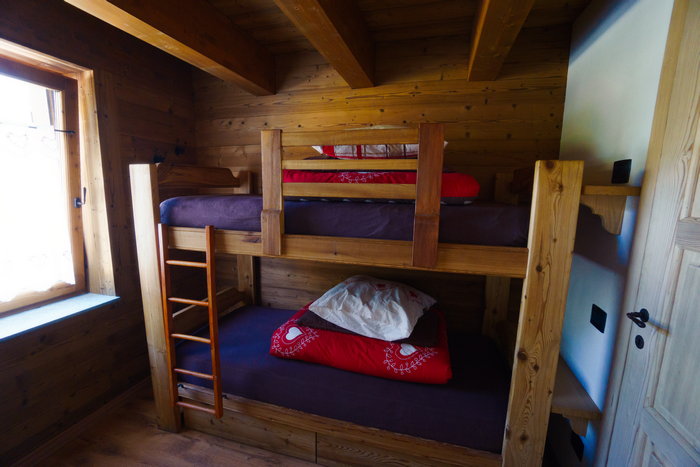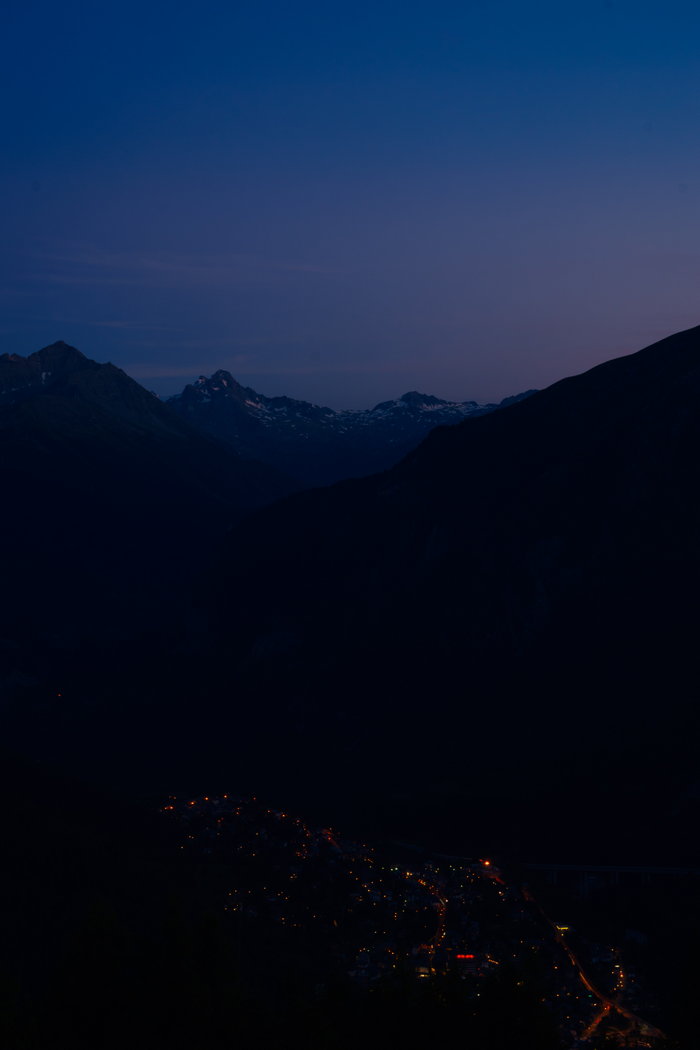 The dorms were heated in Italy and I had a pretty good night sleep. My sleep pattern was now hard wired to a 5:30am wake up, to make the best of it I had a little morning routine: I would get dressed, take my camera and my tripod, take pictures before and while the sun raised, and end the routine with 10 to 20 minutes of stretching and muscular warm-up.
That actually was a brilliant idea, I'm convinced that it is the warm-up that greatly saved me from knee, ankle and muscular pain during the tour
I left the Refugio Elisabetta at 7:00 after the 6:30 am breakfast. It's a long downhill slope into a valley that used to be a lake (Lago Combal). Being still pretty damped and irrigated it creates beautiful fog patches out of the dew in the early morning. This is something I did not anticipate and I was lucky to be an early bird partially in the fog when I reached the valley (40 minutes later the magic was gone).
I went pass the TMB junction to do a small hook at the Miage Lake. You have to follow a large track going to the refuge de Miage, I tried to by-pass the refuge but took the wrong shortcut and ended at the refuge anyway, from there a small trail leads you to a tiny and almost dry lake surrounded by small hills. Don't let you deceived and carry on past that lake as "proper" lakes are hidden just behind and if you are there early (8am) you should be lucky enough to catch some chamois.

I doubled back to get back on the TMB, the trail goes uphill to Arp Vielle inferiore on a smallish path too steep to be run for about 2.5km, after the bend crossed by a small stream it's pretty much a slow down hill and the trail becomes a peaceful long path crossing tiny lakes and pasture. As you get close to "Chercrouit" (Courmayeur's ski station) the path gets wider as you'll essentially be walking on a ski path.

I had planned to have lunch at noon in one of Chercrouit's restaurant and did not take the lunch pack at Elisabetta.I arrived at 10h30 spot on my biological clock, way off my calculation and they would not serve food. What about beers? Yes? Ok I'll have one!
If you ever wondered what kind of poor judgement alcohol has on an empty stomach frail hiker, picture this: A wide downhill S shaped fairly inclined trail with crumbling soil on my left, and a nice green peaceful almost calling really steeply inclined slope bypassing the trail just under the cable-car on my right… Go green! Well, I realised a little too late that green did not necessarily meant flat but could also means high grass hiding lots of rocks. I was pretty lucky not to mess up my ankles and opted for the relay cable-car that I had reached in order to be sure I would not get another brilliant idea.
Being in Courmayeur was like having a bad hangover, and that feeling had nothing to do with that beer. I had read about adventurers going on long trips and having a hard time adjusting back to their old life, but come on! I was barely gone in a semi wild for 24h, me, a pure urban product! How come being in a city could make me feel uncomfortable? The noises, the chatters, all the people, were making me off balance. I tried to treat myself with a nice calm restaurant, but it did not help.I managed to lose my way out of Courmayeur as I wanted to rejoin the TMB, the irony! In my escape I caught up with the two French brothers who I had met the night before, they had the good idea to keep their lunch stop to a small park on the outskirts of the city just before the road to the TMB and were assessing blisters and having lunch; I carried on.
The first kilometer follows a road up 100m (elevation) then the road changes into a steep serpenting trail going up 650m (elevation). I managed to keep a steady but low pace all the way up, it felt like doing cardiovascular fitness training for an hour.
I encounter many stalled hikers (I'm not talking about the above who actually had made it): heat and fatigue will make you want to stop, but each stop will make it harder to carry, so I on kept on moving and I arrived at the Bertone refuge at 2:30pm and was gratified by a fantastic view.
Unfortunately the refuge was overcrowded with tourists who had arrived in the morning and were still having lunch, more over the check-in did not open for another hour. It meant no shower and no place to rest for an hour, to top it all the state of the public WC was unwelcoming to say the least. Aurélien arrived soon after and we could chat a bit while waiting for his brother. At 15h30 the refuge started to empty and no longer felt like a hot "vacation spot" but a quiet peaceful hiker's refuge. Compared to yesterday, it had been and easy day I could really have pushed one step further to the next refuge, maybe even two steps further If I did not stop in Courmayeur. I was now facing a problem: I had imagined that after Day-2 and Day-3, I would be washed out, in need for an easy day to recover and booked accordingly, but considering my hiking rythm, my next stop was barely a few hours away so I had to modify my travel plan and readjust my journey or I'll be sitting idle most of tomorrow.
The refuge: is made of two blocks the main with the restaurant located at the first floor and a large dorm on the ground floor, and the annex made of two or three grapes of luxurious small dorms, each grape sharing a bathroom and a shower. I did not recall but I had booked in the small dorm for 50 Euros (all included). I had my own room, own wall plug and the bathroom facilities outclassed by far most 2* hotels, some of the rooms even had a view to the Mont blanc! The dinner was fine and beverage price among the most affordable of the tour. This refuge was likely the most comfortable of my TMB. You'll get full cell reception; I don't recall about the Wi-Fi.
Social time: Aurelien and Alex told me about the place they would be staying in the next day after the "Ferret's Grand pass" in Switzerland: about 9 hours away or 13 if I used the alternate I had planned. I knew I would be going faster that those estimates and welcomed the idea of another proper hiking day. The refuge's web site mentioned that they always have a couple yurts available in case their dorm was full so I would have the surprise. I spent the dinner with Celina, a sparkling young French woman in her late twenties doing the TMB solo, she was an adventurer and eager to talk about the travels she had done. She reminded me of someone I knew: on the move all across the globe, after the TMB she was flying to Lisboa and not so long later she would be going for several weeks in Asia. She was fit, I mean athletic kind of fit, but had injured her knees and caught a cold. All things considered, I should have (with the most honourable intentions) offered her to share my "suite" rather than let her sleep in the very large dorm. Let's call this a subconsciously deliberate mistake, anyhow she would be short-cutting part of the TMB and take it easy in order to save her strength for the Arpette window where we would meet again in two days.
---
---
DAY-4 (14 August 2016)
Refugio Bertonne – La Peule via Testa Bernarda, Sapin's, entre deux Sauts 's, and Grand Ferre's pass Length: 26.3km, Elevation: +2900m/-2800m Rated: 13h, made in 6h23 walk + 2h00 breaks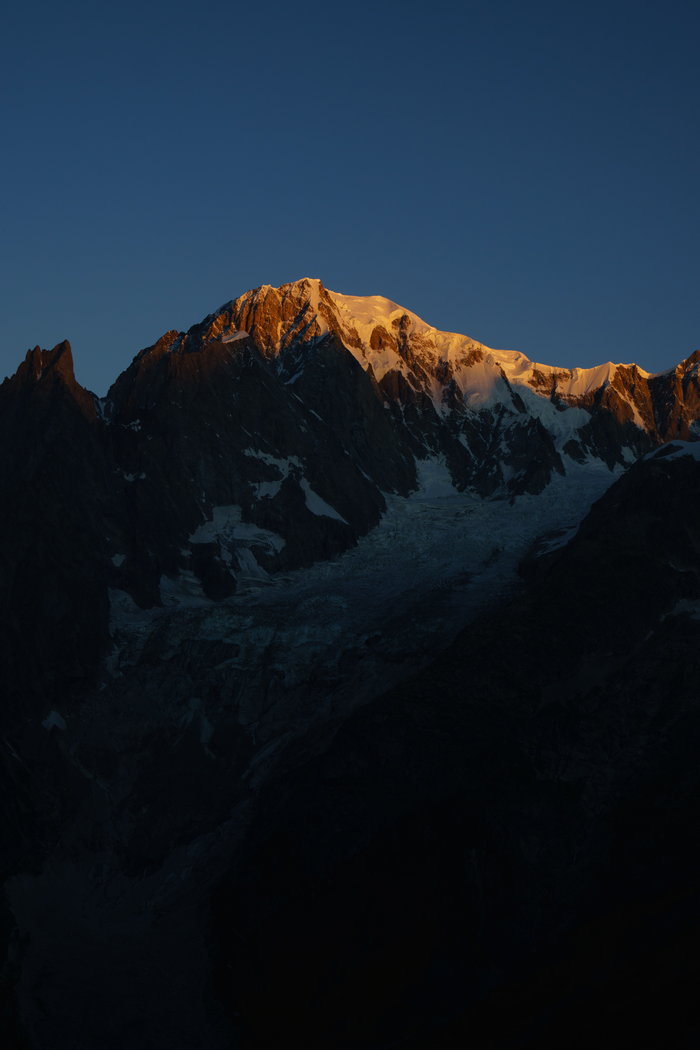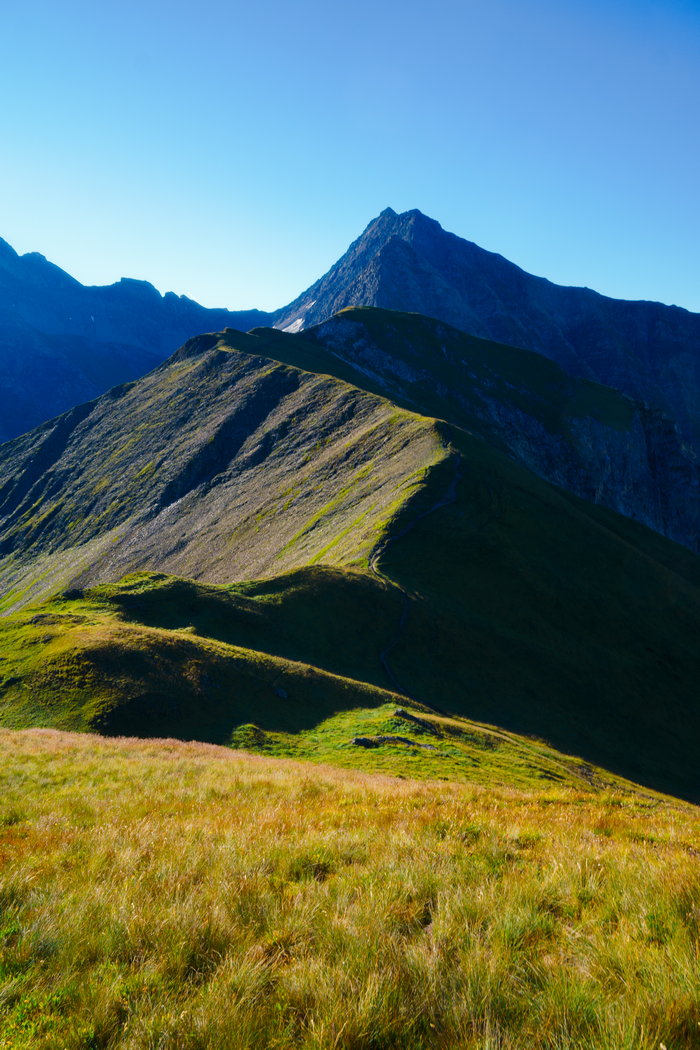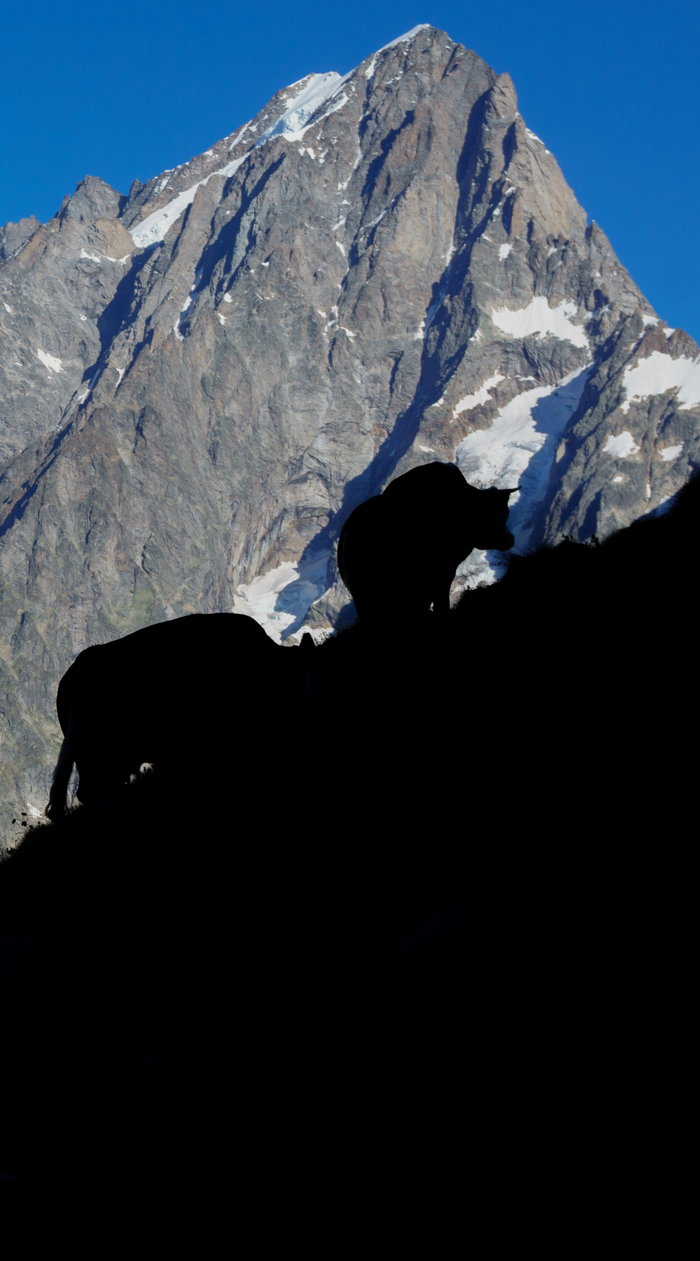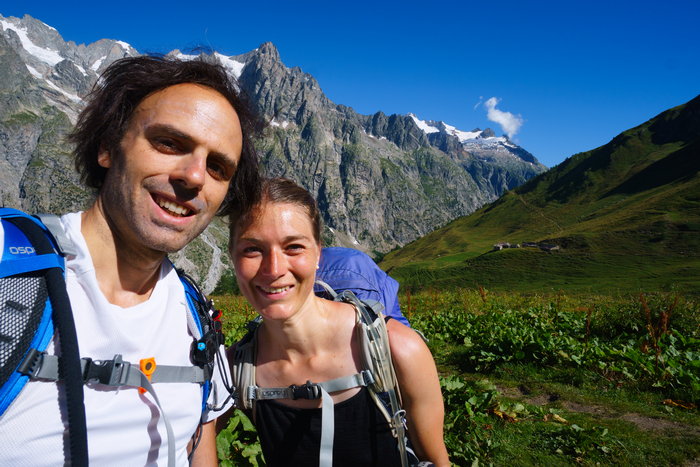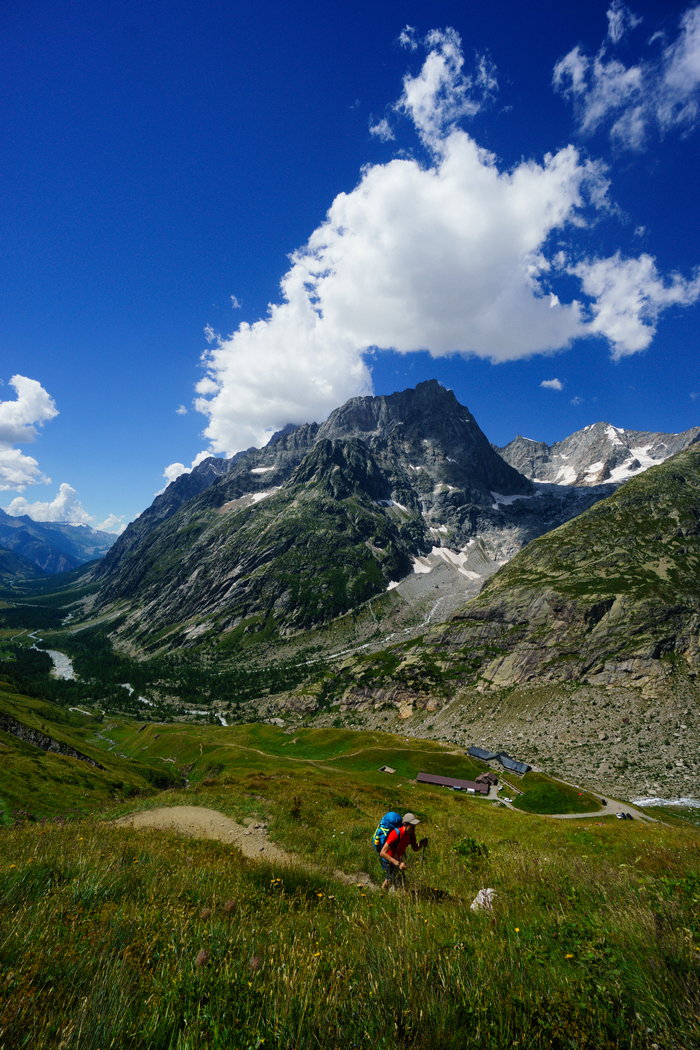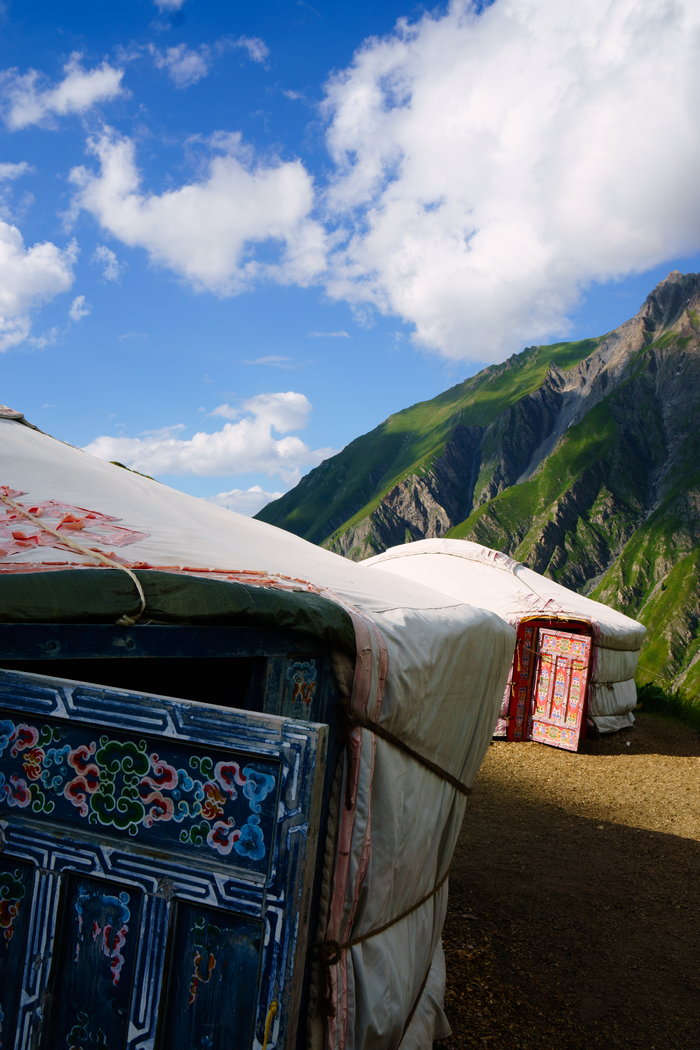 I was the first awake in the refuge and had made my arrangements to leave early (6am). A Thermos bottle of coffee, bread and jam were waiting for me in the lobby outside the locked dining room. After a few minutes of warm-up I was up and going on the alternate trail to Bernarda. It starts with a bit of a climb that looks more impressing than it really is, especially if you are fresh. 40 minutes later I was on the mountain ridge, that's where the fun begins. Imagine on my left successively the Mont Blanc, the "Dent du Géant" and the "Grandes Jorasses" peaks, those peaks catching the first rays of light one after another.

Now it's way past sunrise and it should be day light, but you see, the sun is rising from behind the Goliath peak casting his shadow from the east at 1 o'clock. So there I was, all alone on that ridge going to Testa Bernarda in the twilight and I ran, I ran like a kid, I ran like a mad man in a desperate race against the sun. It filled me with a sensation of freedom I hardly ever felt before, the race ended at Bernarda with the welcoming day light, it was perfect!
The trail will have you walk on the right side of the ridge but you really have to go on the left side of the ridge, off trail or you'll miss the best view. (and the heli-dropped mobil-home, emergency refuge)

After Bernarda, the trail is no longer a bumpy runaway but a real trail and you need to be a bit careful up to the Sapin's pass. At the pass I trusted the misplaced sign (or suffered from acute dyslexia) and made a right to Feydevaz going back down fast to Courmayeur, I came to my senses a few minutes later and doubled back up. The right way is left to the Tza De Secheron home of the dairy herds, where I enjoyed the company of one of the herd that had picked the exact same moment to climb up to the « entre deux sauts » pass. I had skipped the herd management training course and did not know what hikers were supposed to do when caught in a bovine interstate at rush hour. All I knew was that I did not really want to have one of those cow fall on me, so I improvised and cut to the pass using a steeper slope in order to overtake the herd. Only by a small margin I must say, because as though they might seem slow they still do climb. The rest was an easy downhill trail that re-joined the main TMB on a plateau.

At the junction with the main TMB I could not believe my eyes as I crossed path with Lene (the Danish girl I had met the first day), what were the odds? She also had a long day ahead as she needed to go pass the grand Ferret pass and then-some to take the last bus going to Champex. Our reunion did not last long as she was asked to hurry by her Lyonnaise hiking companion. I will have my 10:30 lunch alone then, outside Bonatti: the refuge that I had cancelled my night with. If I thought yesterday's view was magnificent, here it had just nothing compare, the direct vis-à-vis with the mountain gives you the impression of being just a few hundred meters away, it is literally jaw dropping.
Back on the TMB, for the next 4 km the trail is not that large but felt easy and flat enough for me to do Nordic walk / run and play catch up with a really friendly American woman training for the UTMB . If this segment is not physically hard you need to be careful with the blazing mountain bikers and pay attention on a couple occasions when the trail cross seems to have or has blind bends.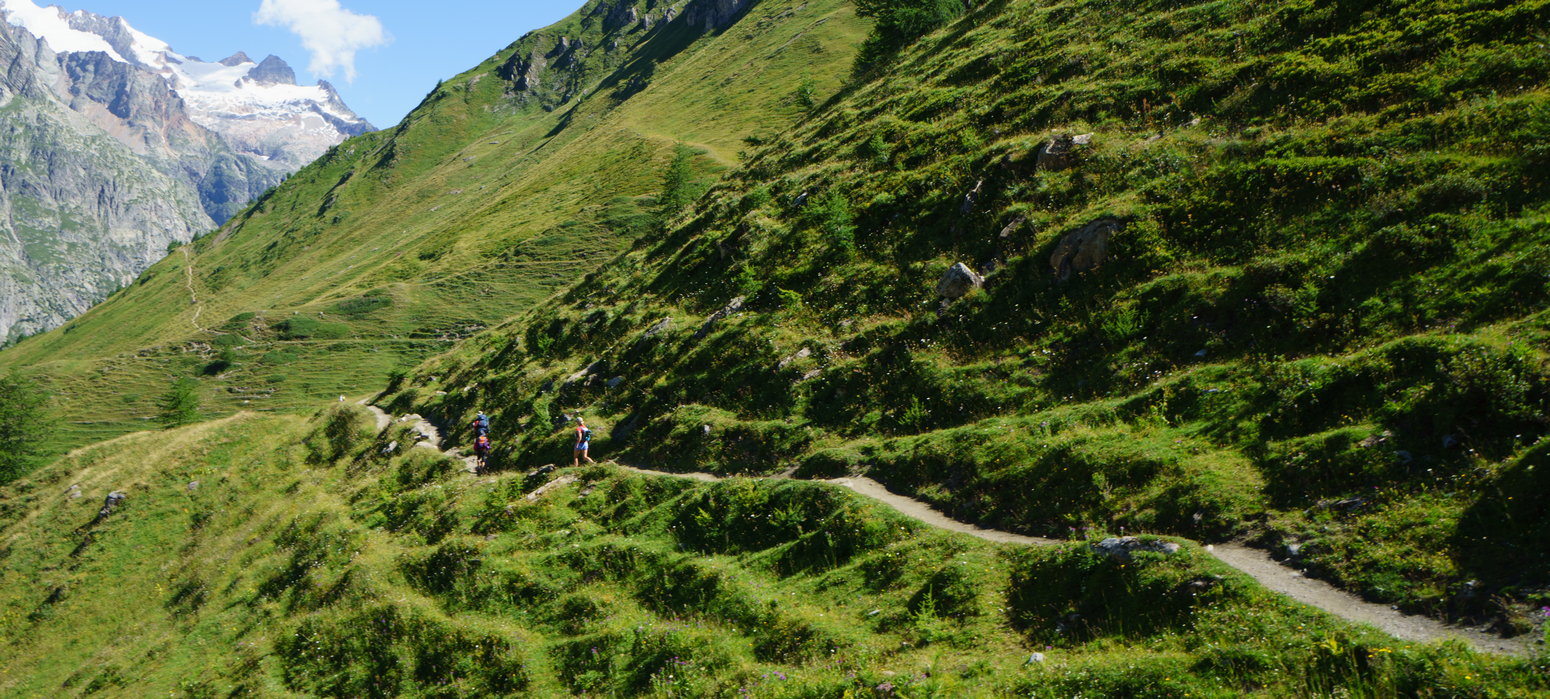 The last segment serpenting down quick to the bottom of the valley is wet slippery, loose, and bushes cluttered, hardly enjoyable if you have a loaded backpack and little hiking technique. As weird as it may sound it ends in a parking lot and some kind of recreation playground. You'll have to forget about the cars for about 10 minutes and you'll on a trail again, ready to climb to the refuge Helena. It looked easier than it felt, only 300m elevation gain but almost as intense as yesterday's climb to Bertone's refuge. At Helena I actually had caught up with the 2 French brothers! I had been told the Grand Ferret's was a difficult pass. Thinking about how difficult the climb to Helena felt I feared my strength would soon start to fade so I hardly took a break and did not wait for Aurelien and Alex to head up. 6/10 of the way up, Aurelien (the younger brother hiking for the first time) caught up with me and took the lead. I could not keep up with Aurelien 's pace but having him in line of sight kept me motivated. The trail is a progressive climb that does not look impressive and was easier than the one going to the Seigne pass, somehow it did not feel as hard as the shorter climb to Helena, before I knew it I was already at the pass. Looking back at the biometrics recorded by my watch going up the pass was equally demanding that the bit going up to Helena. It's funny how physiological factor taints even your recollection of things. We waited 10 minutes for his brother to catch up and I started my descent.

The way down to Switzerland is wide and the slope moderate: ideal if you like to do Nordic walk or run: 40 minutes later, around 15:00, I was in "la Peule", happy but starving, waiting for the 18:00 dinner.
The refuge:La Peule is a micro dairy farm with catering facilities and a refuge, going up you may access it by car. The "restaurant" seemed renowned among connoisseurs for its fondues and its raclette. There was a gigantic raclette appliance that intrigued most guests as to the layman eyes it could easily be mistaken for some kind of torture equipment used by the tribunal of the Inquisition. That night, a group of locals from Champex had drove up here to share with visiting Italian and Austrian friends the exquisite la Peule's fondue! As guests of the refuge, our dinner consisted of a very large croûte au fromage. I asked myself about ordering a fondue but that really would have been too much. No cell reception whatsoever. I could not msg home and tell that I made it and found an accommodation. No Wi-Fi, and barely a wall plug. That being said they had amazing butter and delicious milk & cheese and it definitively meant something.
Social time:Not so much: I was dining with a young New Yorker in his 20s that seems to be washed out by his TBM but spoke about his hikes on the Santiago de Compostela tracks as they had been a walk in the park. There was also at the table an American Jewish girl who had bad knees and had skipped part of the TMB with a bus up to Trient , and an Australian in his mid-20s that did not brag much about his past hikes in Australia, but you could feel that he was the real deal. The only real highlight of the dinenr was when the friendly locals, (the ones having fondue) invited us to taste it!
---
---
DAY-5 (15 August 2016)
La Peule – Arpette Length: 26km, Elevation: +2310m/-2750m Rated: 7h20, made in 5h walk + 0h45 breaks
I was awake at 5am, only this time being in a farm I wasn't the only one awake: I could take a glimpse at their micro milking facility (hardly bigger than a minivan). I tried to take a few landscape pictures but the location was plain and uninspiring compare to the places I had just seen. I had one of the sweetest breakfast of the tour and left at 7:30. The Aussie left maybe 10 minutes earlier but I would only be able to catch him up several hours later in Champex where he had made an hour lunch break. That day he planned to go to Trient via the Arpette's windows (that was like 40km totals, 4100m up 4900m down). Over the last few days I had become rather self-content about how I faired on the tour, butlooking how he was hiking with ease humbled me down. A fair amount of hikers (beginners or not) skip the la Fouly – Champex segment of the trail and take the bus. My original plan was to do the same, but hiking had grown on me and that morning it felt out of question. The trail is interspersed by four or five villages and a couple of road segments. Going down from la Peule presented little visual interest except maybe for the torrent you'll be crossing.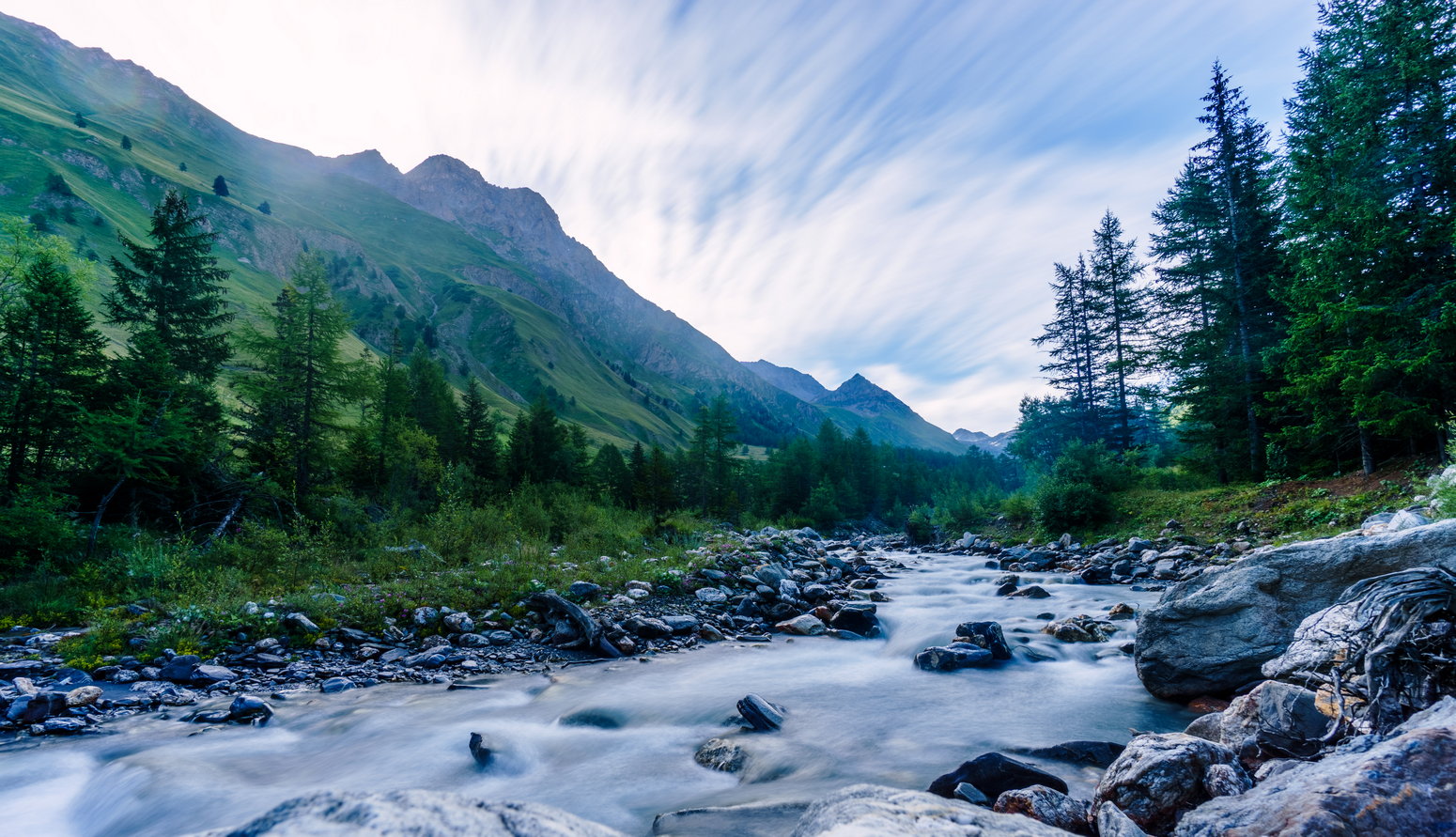 From la Fouly the trail feels like a forest trail ambushed with tree roots. It's definitively not as flat as the map did let me think. It's actually hillside and can become narrow:not too exciting but it actually really isn't that bad or that easy. You may enjoy the cute authentic Swiss villages you'll cross before you start the ascent to Champex. The TMB then follows a path called the mushroom trail garmented every now and then by wooded sculptures. I hardly felt like taking pictures and the ever changing path going up and down was tiresome.I did not really stayed much in Champex, it's a relatively quiet town with a small lake that I could easily have enjoyed if I hadn't become town-phobic. The path to Arpette was the highpoint of the day: it follows a tiny torrent stream flanked with wild blueberries and wild raspberries. Although I was told it was semi-artificial I found it really cute. I was at the Arpette refuge around 13h15 and could enjoy fondue and ice-cream (ask for raspberry/strawberry scoop with hot blueberry coulis)
The refuge: It feels more like a restaurant with a few hotel rooms and an extension with 8 small 6 plces dormitory, than a refuge. It's actually called the "relais d'Arpette" rather than the "refuge d'Arpette". It rightfully seemed to be the place to be for lunch and early afternoon and Champex local escapists knew it. The refuge facilities are top tier and it's the only refuge where we could choose our dinner menu: fondue or pheasant.
Social time: I was able to chat with two tough fully autonomous French hikers on a beer break. They told me how easy felt the TMB if it wasn't for the « small Ferret's pass », a pass most guides strongly recommend to avoid if you do not carry mountaineering gear. They eager to go to the Arpette window as it was the only other real challenge of the TMB. (It's called a window because it's a very steep narrow pass, looking like a small window in the middle of the mountain range). Celina, whom I meet a couple days ago, arrived late that day, the bus should have been a shortcut but waiting for it wasn't really time effective. She was mildly injured so it finally gave me the chance to demonstrate how Sodium hypochlorite is better than alcohol. At dinner we chatted with a trio of French trailers in their late 40's doing the TMB in four and half days. They were doing 35km each day with a minimalistic 3kg bag staying in refuges at night, I thought this was great.
---
---
DAY-6 (16 August 2016)
Arpette to Charamillion's refuge via the Arpette window and the Balme pass Length: 21km, Elevation: +2900m/-2650m Rated: 8h50, made in 6h46 walk + 2h45 breaks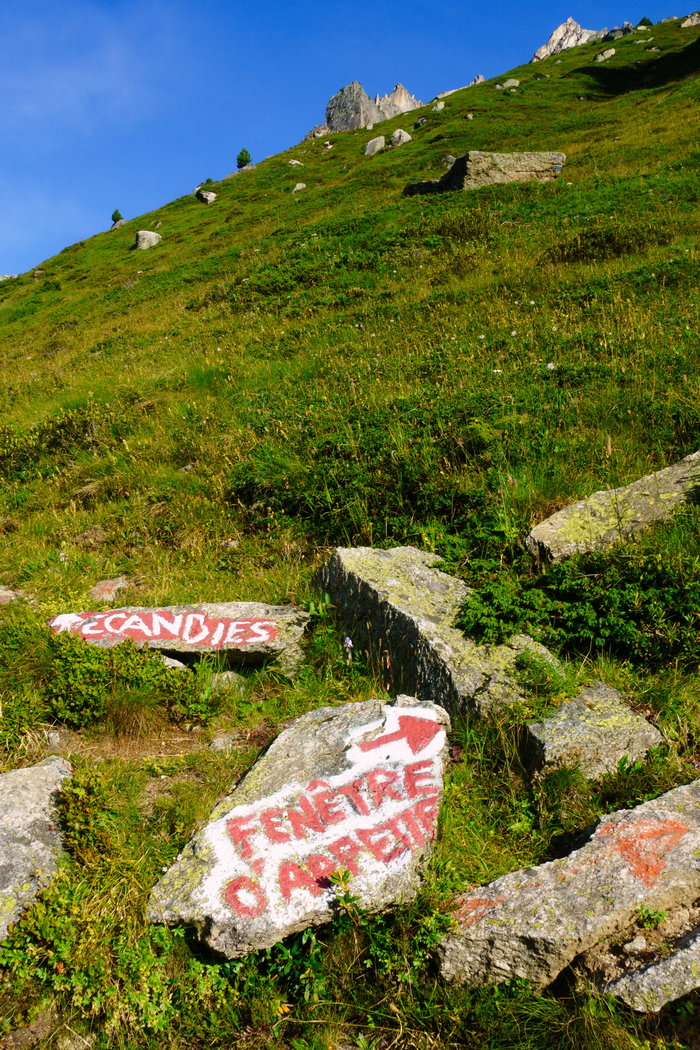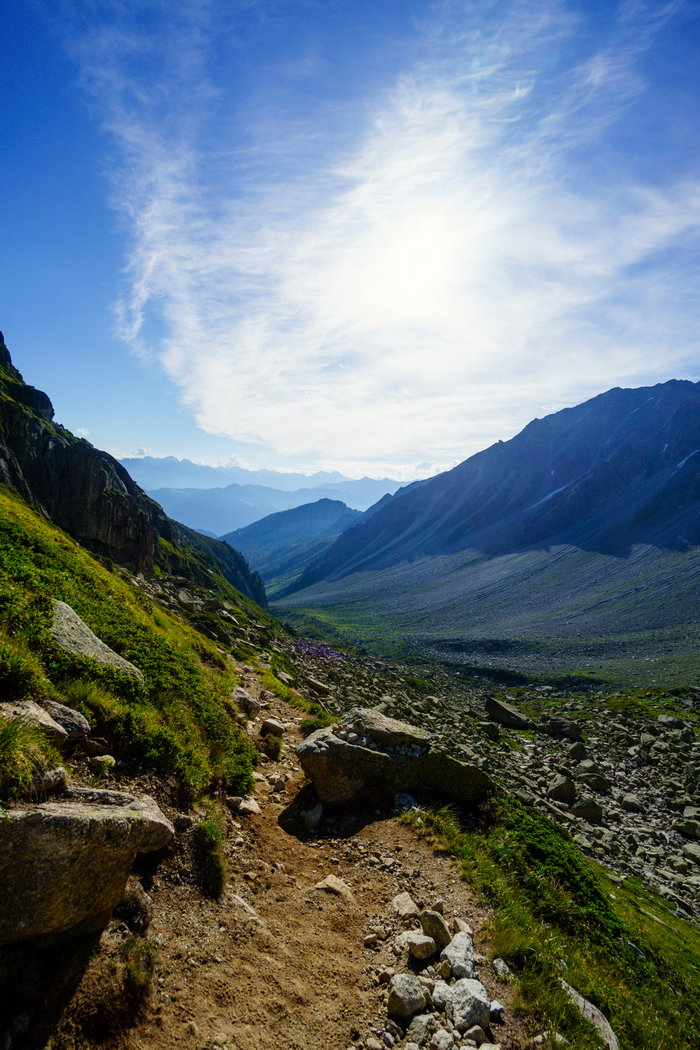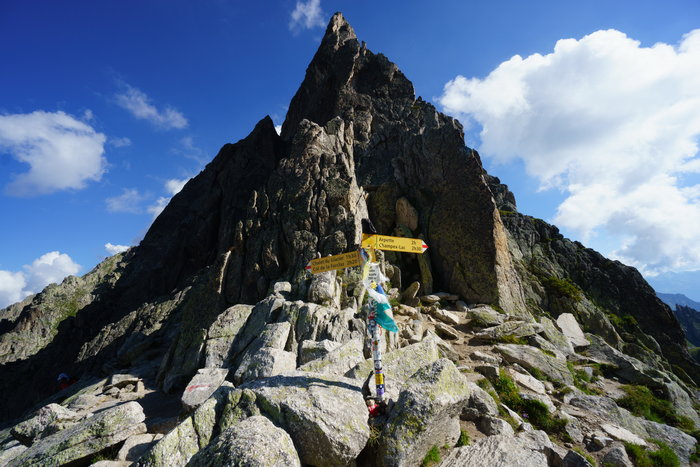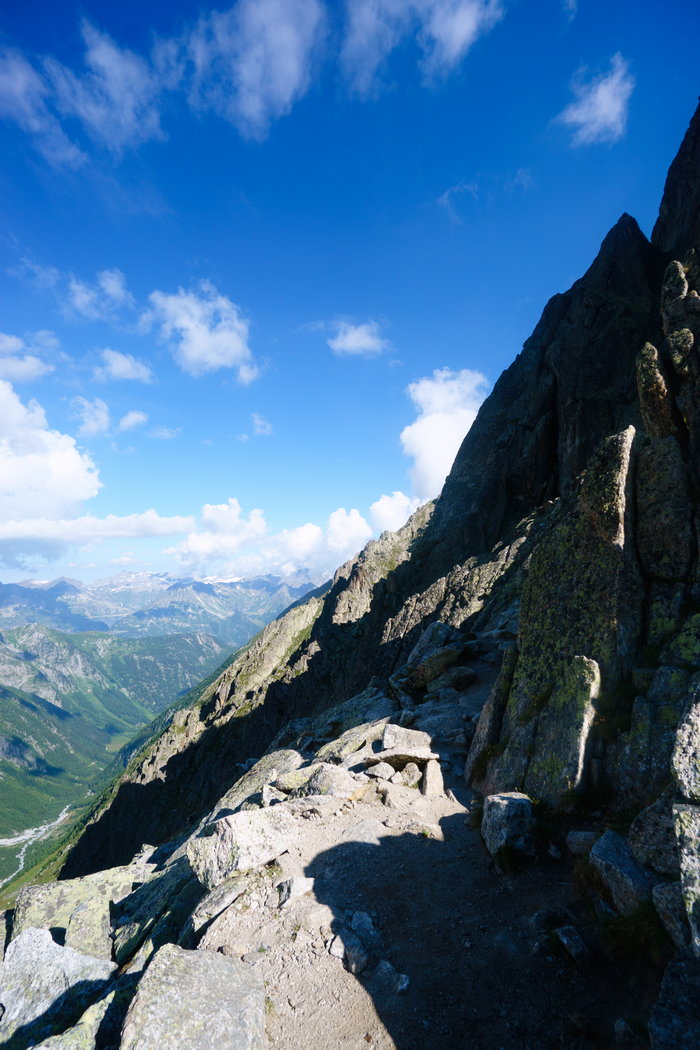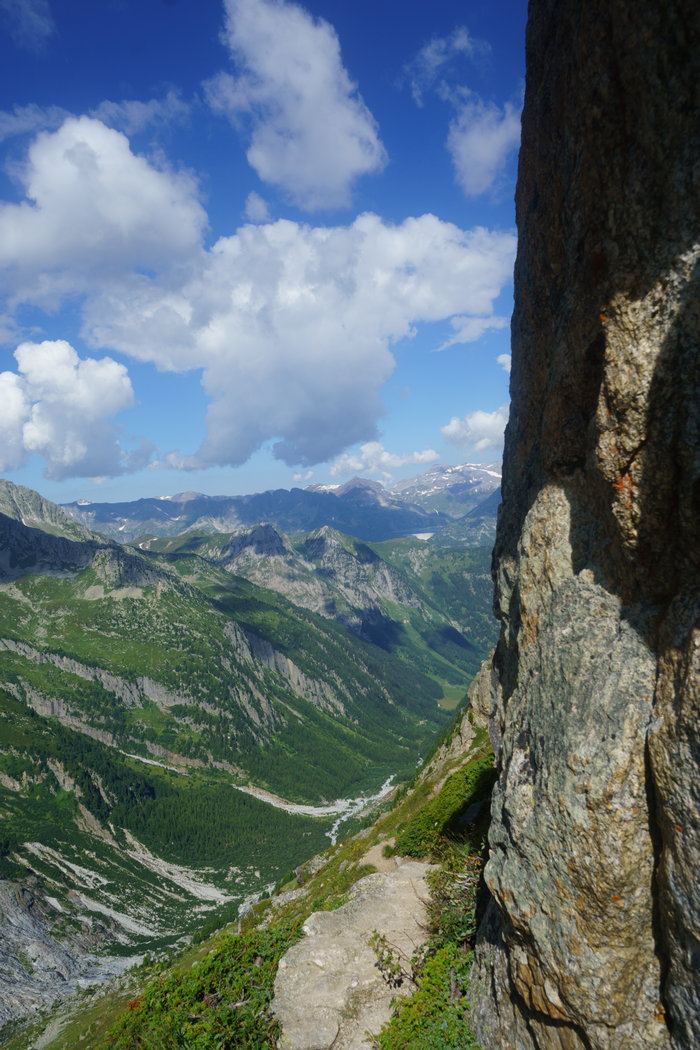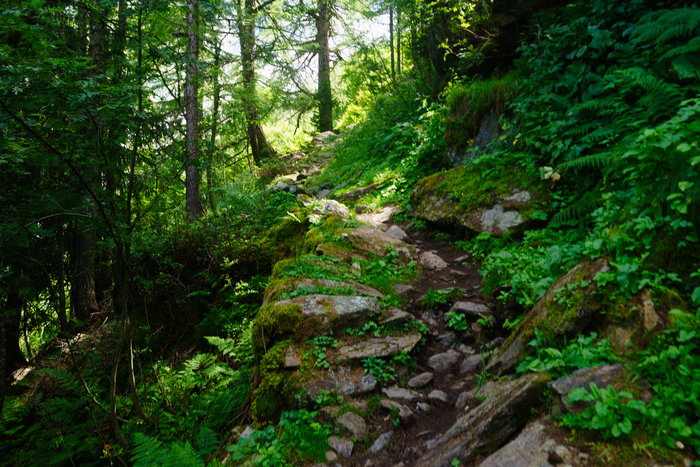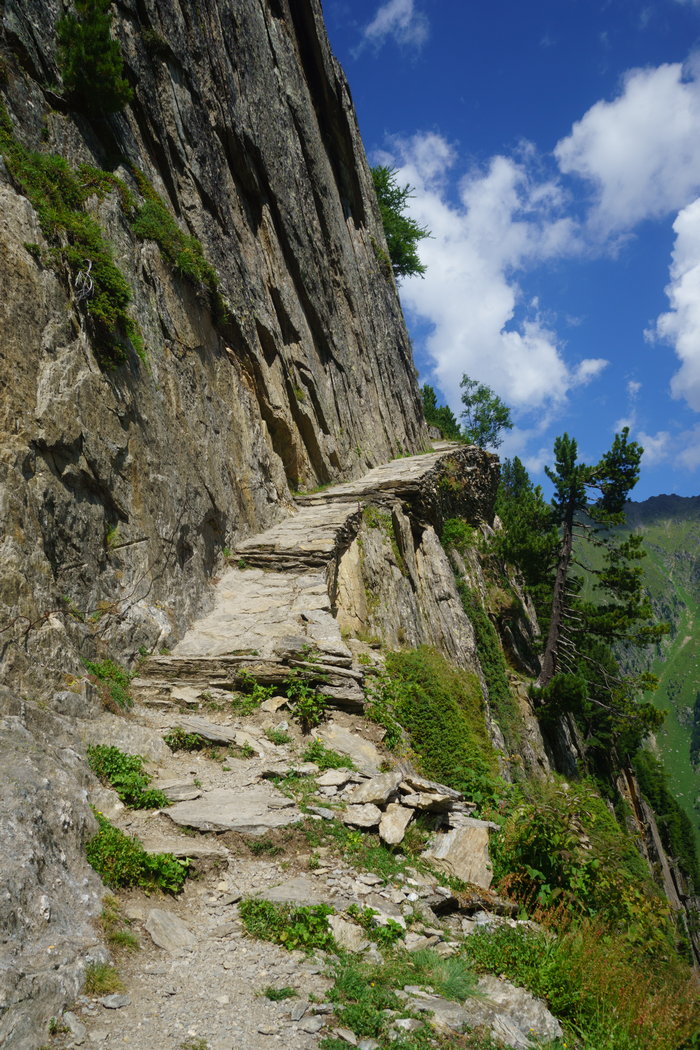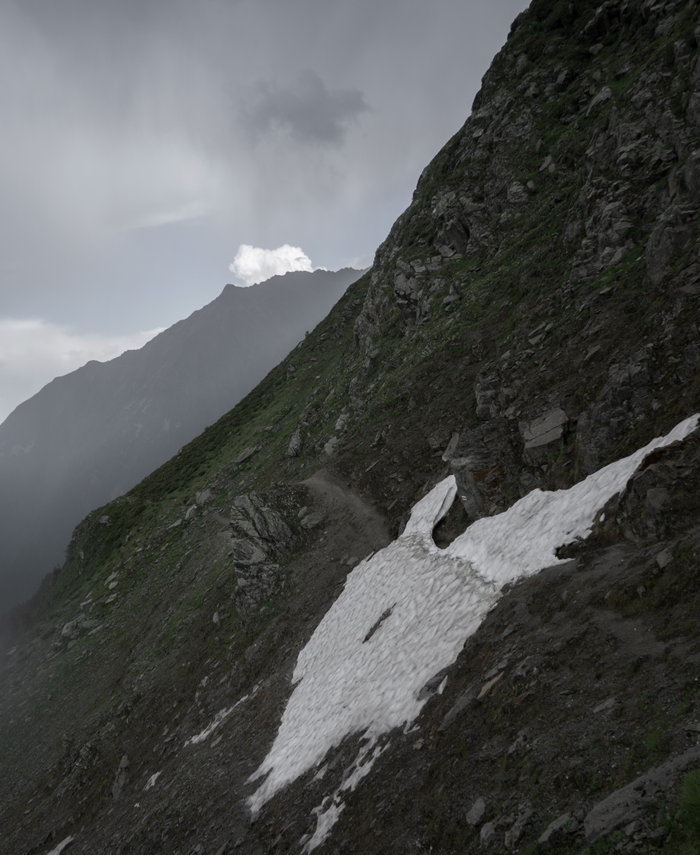 I apprehended that day, as hikers were telling stories about how the path was poorly signalled, how if you took a left instead of a right you would end in Ecandies (a real rock climbing spot), how part of the mountain had collapsed a few years back along with the trail, how the Swiss recreated somewhat of a path that wasn't great, how the windows was in fact more rock climbing than hiking etc. With that in my mind, I started hiking around 7:20. I was the first of the refuge but I had seen campers leaving around 6:30.
The first 1.5 km are easy,they don't feel any different from other parts of the TMB. After the first cross road you're no longer on a flat trail, the landscape is still quite green but as you progress rocks get bigger and merrier until you reach what could be best described as a large river of rocks, remainings of a glacier's bed. You'll first approach this river from the side from a trail located below the river stone level. For a little while this trail is easier as the path in no longer filled with block of rocks. You'll then arrive to the famous crossroad you should not miss, the signs had been repainted and were obvious, the trail will take you to the right flank of the valley skirting around this rock river from above.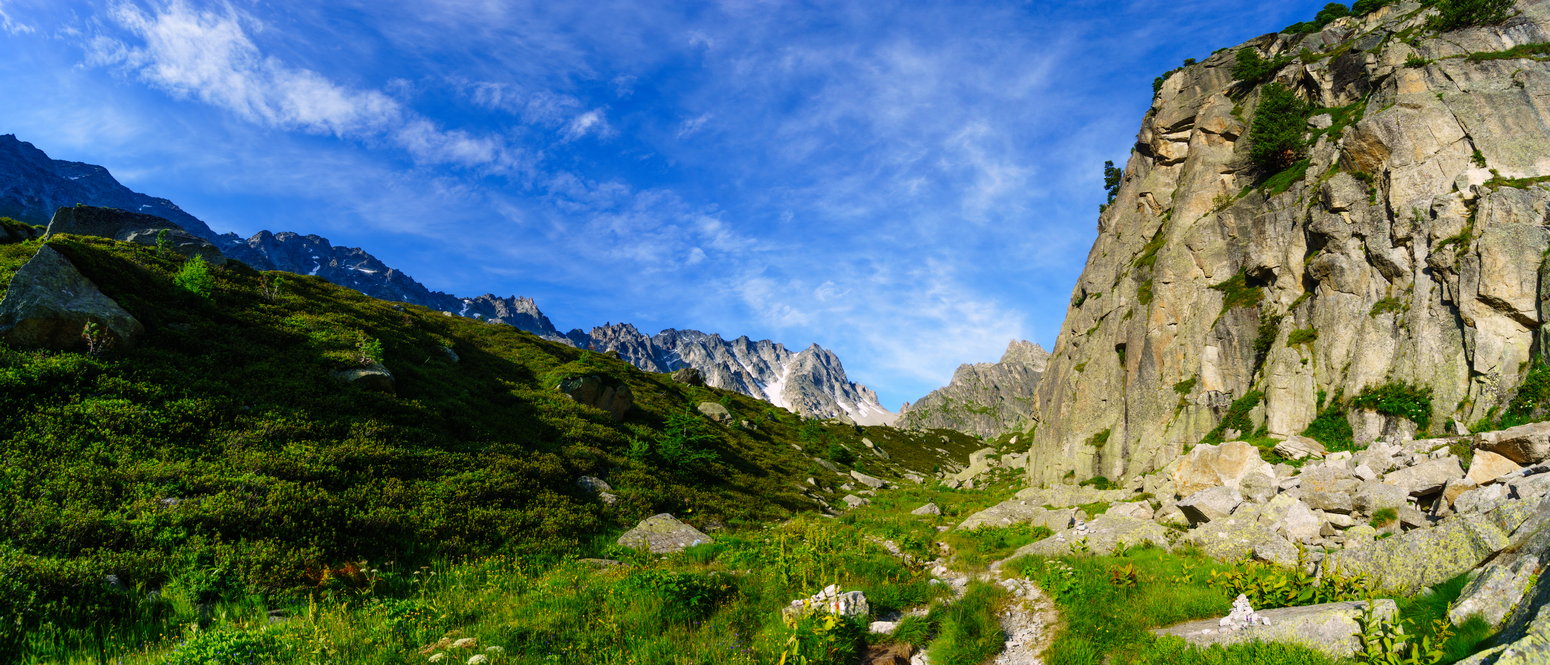 So far the trail had not been physically or technically difficult, being extra cautious and paying attention to the numerous stones in order to avoid ankle injury was the main reason I slowed my pace. I remember looking at the time and thinking that after all I was going as usual and how the difficulty was overrated. Two of the French trailers caught up with me as I arrived to the place you finally have crossed the stone river on top of large rocks. The trailers really had a good technique as they easily jumped from one rock to the next. Soon after, the slope takes an abrupt and you will be climbing up a landslide, hiking poles were no longer of any use, the terrain is a mixture of unstable stones of very various sizes, some being more or less sealed into the ground. For a while now the path had only been signalled by a couple of white and red markings here and there, you had to make your path among and above rocks and rubble. At some point I was given the choice between what looks like unstable smaller rocks and ground in between medium sided rocks. I chose the latter and started climbing, I did not anticipate that the rocks would unseal as would the ground under my weight.
I remember seeing my left grip unsealed and I feeling myself falling, I did not black out but I don't have full recollection of what happened. The next thing I can remember is being with my back facing the slope in some kind of equilibrium holding by a left trembling foot set on rock partially unsealed, and by my backpack and tripod. I don't really recall either how I did manage to recover from this position but I did.
From this moment on I had lost all my confidence and although the trail was kind of getting easier and I could now use my poles, I had trouble getting in motion. This was just little before the neve area of the final approach. I waited for a couple of hikers that I spotted when I was back against the wall to catch up and follow their lead on the neve.
I obviously did not take pictures for a short while. The fist picture I took was the next obstacle, the neve. If I was to slip, then I would have a picture this time!! If you look closely on the bottom right of the middle picture, you'll get an idea of what the crumbling mix soil & rocks looked like and you just have to imagine this kind of terrain with the incline of the left picture
The final serpenting approach was hard for me, I lacked the concentration needed and bended my ankle on several occasions, making me wonder each time how come I did not injure myself. I reached the window before 10:00, I was still shaken and could not really enjoy the accomplishment. I felt somewhat warm as I managed to be 0:35 min ahead of the suggested time but that feeling did not last. Going down from the Arpette window was excruciating: every single stone seemed slippery, the slower I was moving the worse it was getting. I was exasperated by my steps that kept skating over and over. The trail was very steep very narrow almost luring you into the abyss. I understand that part of my appreciation was tainted, but there were 4 to 5 occasions where you really could die if your grips failed.
From the top you start with large stone steps about 1m deep, then you have to deal with rolling stones rubble, and when it finally seems to be an easier greener trail it's either on a narrow edge, collapsing while crossing stream or on a wet landslide. (When it wasn't, fear would make me clumsy)

Three full hours to get down to the "Chalet des Glaciers": about twice the suggested time. Physically I was fine, I did not injured myself but psychologically that was too long stress wise. At the chalet, I needed comfort and I gratified myself with a fresh apricot tart and my lunch basket.
Be aware that the chalet refuses to collect garbage. If you ask politely they may indicate you a dumpster located 5 minutes away (across the bridge take a right)
I had finally recovered some assurance and was good to go. The next step was Balme's pass, the day was sunny and hot but they announced rain in the afternoon and I didn't want to be deceived by the changing mountain weather. In order to reach the pass, you first have a short but fairly ascending climb for 2,5km and then a trail for 3,5km with little elevation gain. The ascending climb starts as a steep partially shaded forest trail but fairly quickly moves you out in the open, the path ends at the bottom of sheer drop basaltic stonewall, where gigantic steeps carved from the side will take you up cliff. This short trail is physical especially under the sun in the early afternoon. I suspected that my water reserve was low, I could not refill at the chalet, I rationed my water intake during the climb as the bottle I bought at the chalet barely impacted my thirst. I ran empty when I reached the basaltic stonewall, this worried me as I was hours away from the next refuge. Fortunately, an unexpected but pleasing surprise was waiting for me at the top: an unlisted micro refuge with a water source and some refreshments. I wasn't the only one up there: the two fully autonomous hikers I met the day before were having their ritual well deserved beer.

The weather was still nice but I was convinced that it was changing. I kept my pause to 15 minutes and continued to the allegedly flat trail leading to the Balme's pass. It isn't flat at all, it's quite rugged, I could neither Nordic walk/run my way nor power climb on that one. My mediocre hiking technique aggravated by recurring echoes to my Arpette experience would once-again be source of trouble. One third in I crossed path with one group of teenage French hikers and a party of 3 British lady hikers both coming from Balme's. They did not seem worried by the traitorous weather and were enjoying the sun in between clouds, but I was getting worried and for the first time of the trip I took my Gore-Tex shell out of my bag and wore it pre-emptively; about 5 minutes later the rain was there. I did not mind the rain but I did not like the sound coming from a thunderstorm that I could hear approaching. This was grand! First my misadventure at Arpette, now this.
Safety rules during thunderstorm: stay away from ridge, stay away from stones, stay away from water sources. In other words I was in the wrong place at the wrong time and I would be for another 2 km, great!
And now, after the rain squall I was being blessed with hail, no time to put an extra warming layer (I only had my Gore-Tex on top of a light t-shirt). I focussed on going ahead double time, I was clumsy, I felt a couple of times, soaking myself in crossing streams. Eventually near thee end the weather game me a break but the trail did not: in front of me was a neve still covered by the hail that had poured a few minutes earlier. The neve was not that long but the slope was steep, I walked really really slow, and as I finally stepped out of it I slipped. I would not fall! Doing some kind of leg split I shove one of my leg in a collapsed portion of the neve, it stopped my slide. Another 500m or so and I was at the Balme's pass and its refuge, at last. From there I could see the lightning in the valley, Charamillion was another 3km in the direction of the thunder, the trail was now easy and I could Nordic rush my way down (fatigue permitting). I had the option to reach a nearby cable car, where some hikers seemed to be waiting for their turn, but as I was pondering my options, some bell echoed from the valley and the cable car stopped. That settled it, I would run my way down. When I reached the refuge it was around 16:20. I had enough.
The refuge: One main ground floor with a large enjoyable comfortable dining room/ bar and a barrack with tiny dorms of 4 where you barely have any room. It's not as bad as it sounds because you can use the really large dining room as living room. Restroom & showers are located at opposite end of dorms in a separate building. The owners are really welcoming and it has this unique feeling that only Family business with a big F has. With barely 12 guests, it felt peaceful.
Social time: This was the place where I was supposed to meet with Nicolas(from DAY-1) but he was a no show. I was a bit disappointed and slightly worried. I had dinner with a nice couple of Australian (Sarah and Craig) doing a 3-days hike in the region. The dinner was about to end when Nicolas finally arrived, his day had been tough. He started from Champex and saw the weather turn when he reached Arpette. He then had to rush down to avoid the rain and the ice storm that hit me in Balme's. We shared a well deserved bottle of red wine and had a good laugh with the Australians who were also heading next to the Lac Blanc. Nicolas decided to follow our lead.
---
---
DAY-7 (17 August 2016)
Charamillion – Lac Blanc(Chamonix) Length: 13km, Elevation: +1880m/-1416m Rated: 4h30 , made in 3h20 walk + 1h30 breaks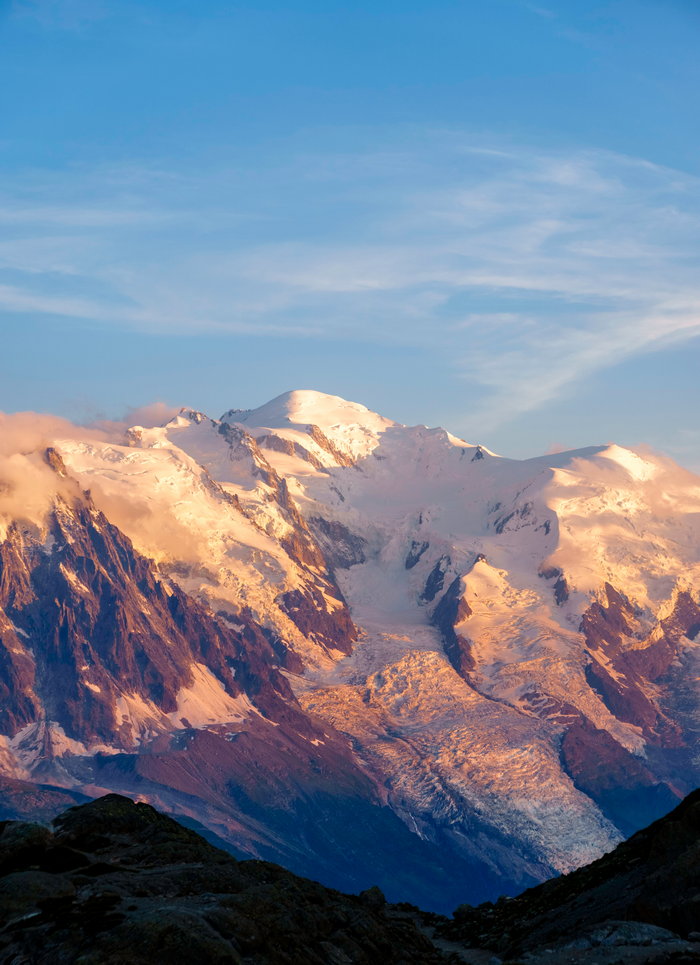 My plan was to double back to the Balme's pass to trail on the beautiful ridge of the Posettes before going to the Lac Blanc (total 18km 7h hike). Julien and Carole, a French couple in their late 30s, experienced hikers and photo amateurs, also going to the Lac Blanc, had the same intentions and were hanging on the weather forecast. At breakfast we checked and rechecked: thunderstorm in the early afternoon, once bitten twice shy, we revised our plan and chose to continue down to "Le Tour" then go cross hill to "Tré-Les-Champs" to get to the "Lac Blanc". I left the refuge with Nicolas, Craig and Sara around 8:30. With their big backpacks and no poles, our Australian friends had trouble up hills, we continued as a pair. Two third in your climb, when you reach the "Aiguillette d'Argentière", the trail has some technical moments: you will need to climb metal ladders bolted into the rocks.
I don't know if I had lost consciousness of danger but it did not feel that scary to me (I'll choose up the metal ladder over down the rubbly landslide any time). We arrived at the Lacs des Chéserys at noon, where we unexpectedly met Lene one last time, she was staying in an hotel in Chamonix and came up here without backpack on a trail run.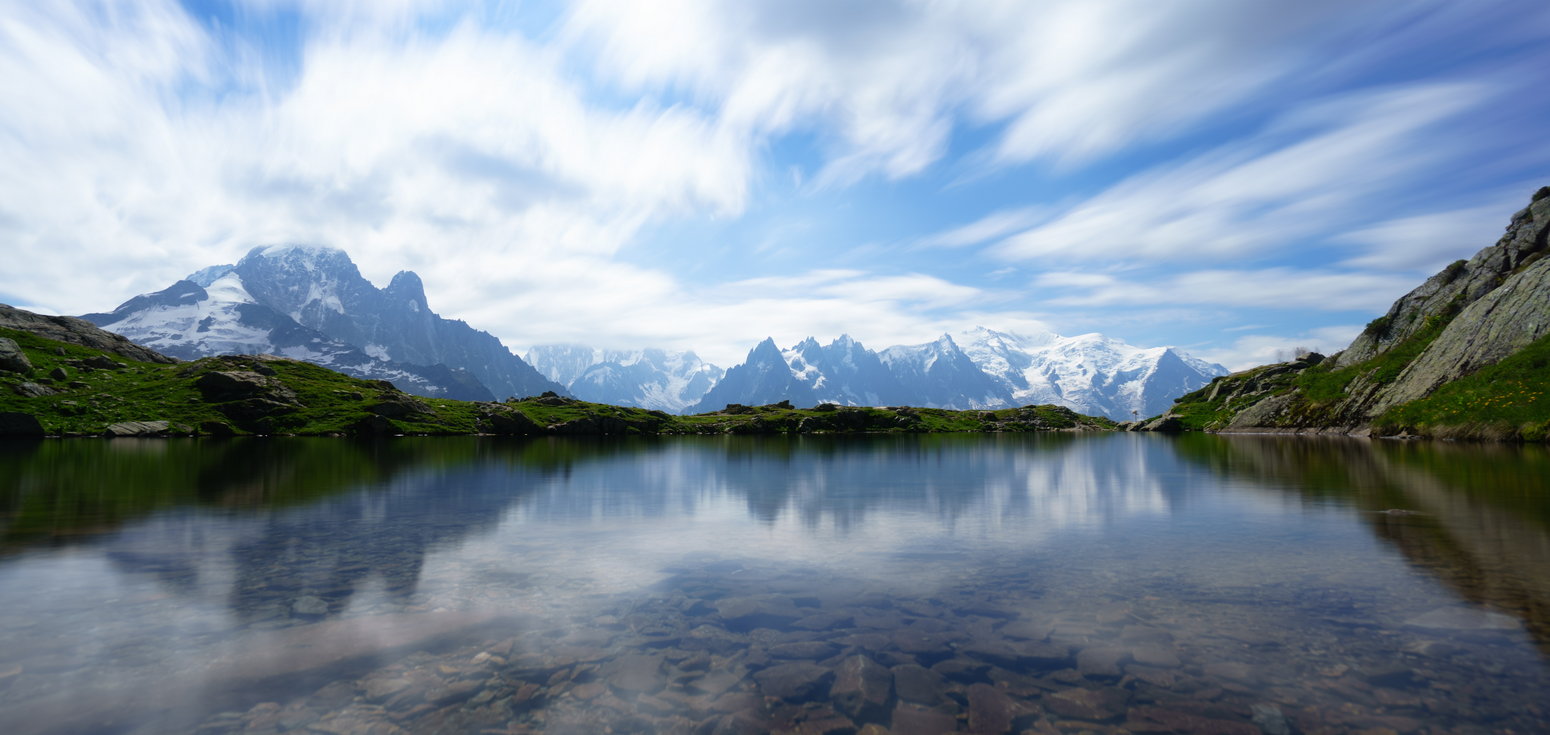 We stayed nearly an hour at the lakes then headed to the nearby "Lac Blanc". The weather had been fantastic so far, but seemed to change to dark clouds. I rushed to the Lac Blanc where I was welcome by the sun, the bad weather had moved into the valley. Fortune favours the brave and I had been played, I could definitively have done the Posettes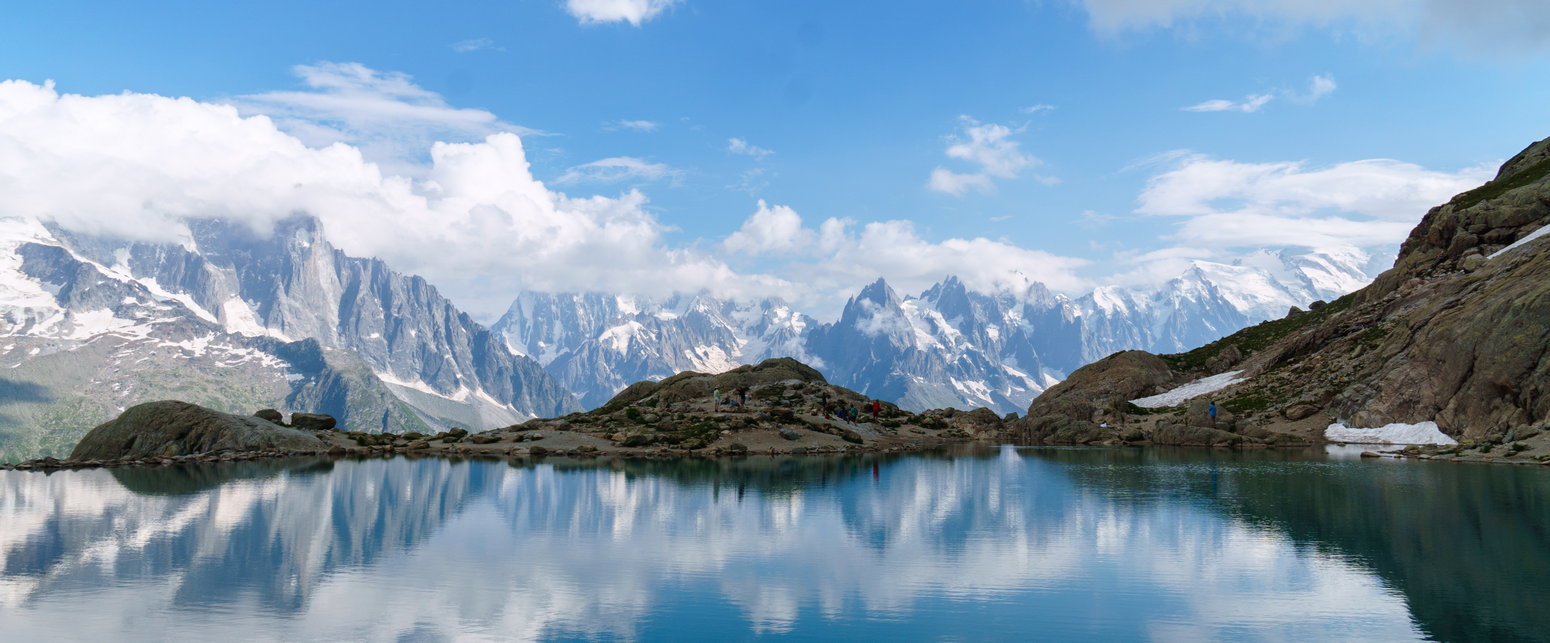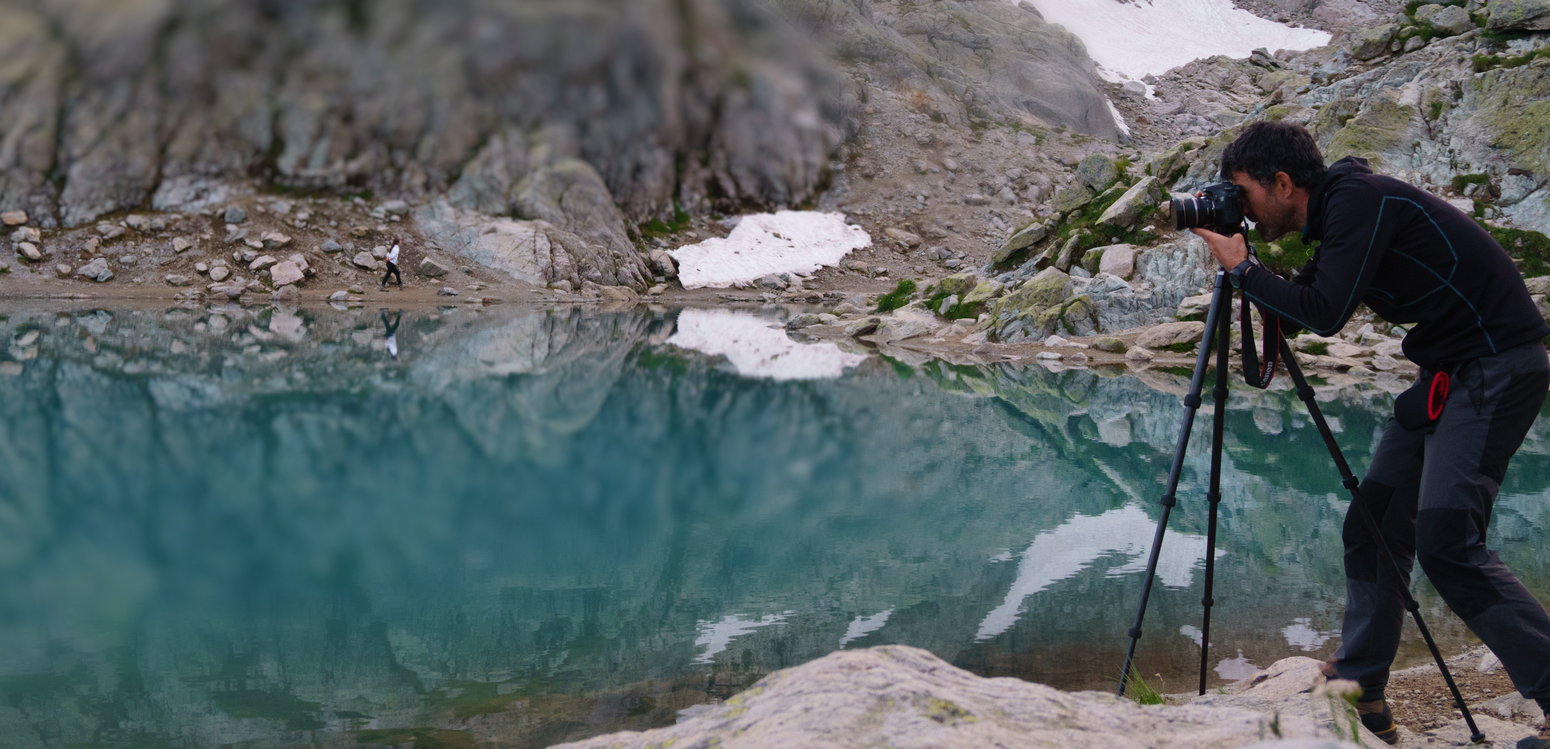 The refuge:
There's hardly any room in the refuge, the dorms are located on the first floor and are segmented into parks of 5 beds with even less space that in Charamillion. You are not allowed to bring belongings in the dorm and must leave your pack in the basement where the shower and WC are located. Officially they is no wall plug but between 7pm and 9pm you may give your phone to the personnel and they will charge it. Now, if you look hard enough there is one semi hidden wall plug. There is no Wi-Fi, and the dinner served in a small dining room was somewhat disappointing but then again you don't come up here for its refuge.
Social time: My solo adventure was taking a soft landing. After day 6 where the challenge had been at its peak, I was getting more social, exchanging about photography etc. Our informal pick up group of 6 was getting more and more formal and we decided to finish together tomorrow as we would try to reach the Brévent, weather permitting.

---
---
DAY-8 (18 August 2016)
Lac Blanc – Planpraz via grand balcon sud Length: 9.5km, Elevation: +1240m/-1590m Rated: 3h20 , made in 2h26 walk + 0h21 breaks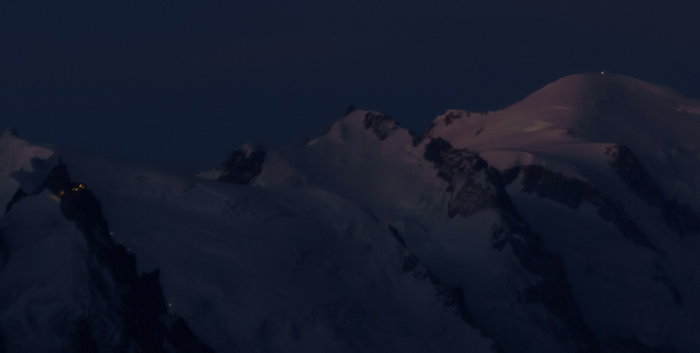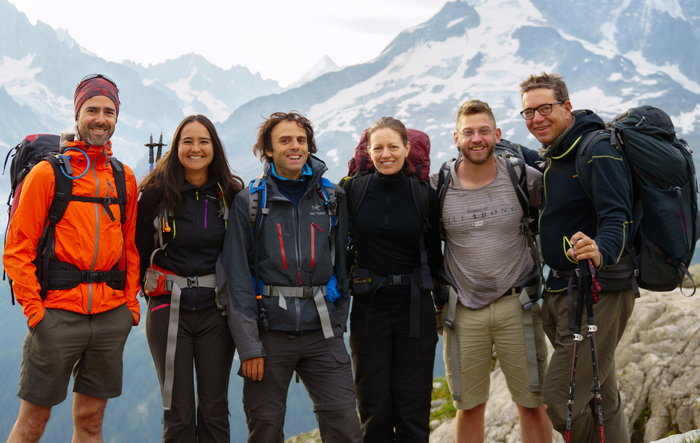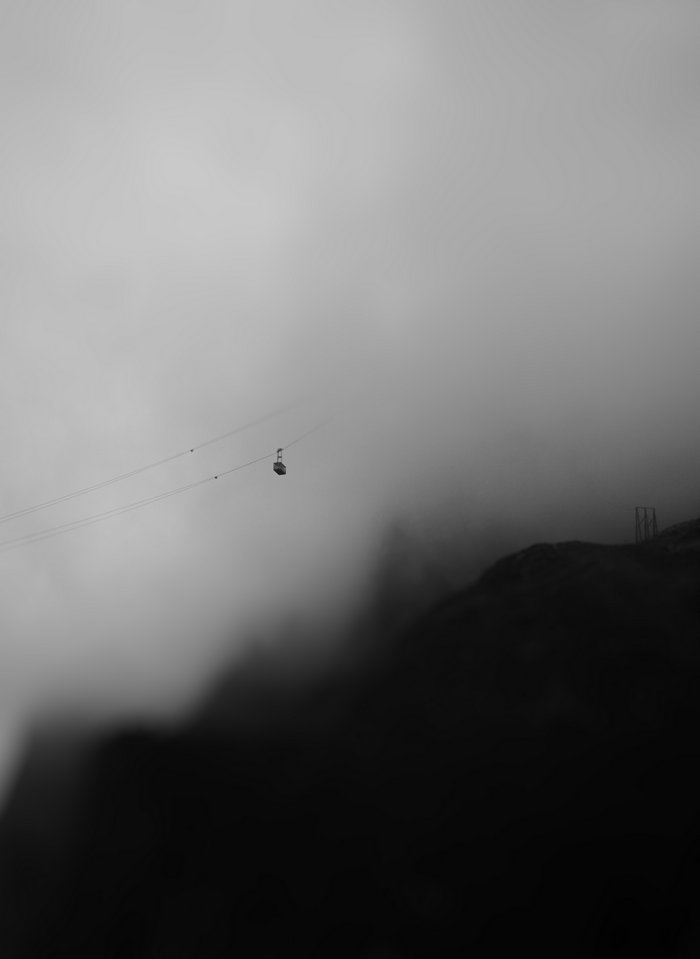 Awake at my usual 5h30, I sneaked outside, deep into the blue night 17km away you could see the light of the first alpinist who made it to the Mont Blanc, and the lights of the ones following from l'Aiguille du Midi. I watched the landscape change colours from dark blue to blue, to light pink, to pink and blue to white. The air was freezing, I thought I would skip stretching and working out (this was lazy and stupid). Breakfast was at a late 8:00 am, my train was leaving Chamonix at 3pm, I was on a tight schedule but going to the Brévent was doable, we left as a group.
During our way down to "Flégère" I was feeling "rigid" and was barely walking faster than the poleless Australians. It required me the one hour hike to "Flégère" to warm up. Somewhere down the slope (so to speak) we had lost Craig and Sarah: they were there and then they were gone! We waited a few minutes and resigned to continue to Plan Praz as a group of four (I later learned they were ok, they had hidden to relieve themselves). The weather wasn't looking good and less than half way we geared up for the inevitable rain. The sky was getting lower by the minute and we paced up as we did not want to get caught in the fog. We arrived at Plan Praz at 10:50
We were one step away from the Brévent, the final climb was rated 1h45, strictly speaking I had the time to go up and then take the cable car down to catch my train. But was it worth it? I had already been a couple of times up to the Brévent anyway, with the fog there would not be much to see, going up could become hazardous, dangerous maybe if the weather went for the worse. Would they keep the cable car going if a thunderstorm started? This time I would pass and my TMB would end there as I headed down to Chamonix followed by Julien and Carole. Nicolas, as a proud British citizen, would not just give up to the fog, out of question! He later told me that going up had been a real challenge as it was so dense, he could not see the trail and lost his way.
A few hours later in Chamonix, I looked up at the dark sky, hoping to get one last glimpse of the mountain and there it was mocking me: the Brévent finally striking out like a castle in the sky. By 3:20pm the weather had completely cleared out but I had already left for Paris.


The next morning, I could barely walk and it took me a full week to be able to even consider trying running again, my knees my ankles and my legs were now hurting bad.
"is all inside your head, she said to me...
---
---
Epilogue:
The experiences of the TMB may vary a lot, but unlike what I imagined, it's not about the difficulty of the path that you choose. Elevation, distances, even weather conditions do not really account for so much, most has to do with your state of mind.
If you can pretty much tailor your own TMB and make this journey one that fits your travelling style and expectations, you may possibly find something more.
Travelling solo and doing most of the trail all alone, unaccountable, unplugged, silenced, insignificant and fragile made me touch emotions that I not only never expected or sought for but above all that I couldn't have conceived otherwise.
But if you try sometime, you'll find; you get what you need"
THE ROLLING STONES